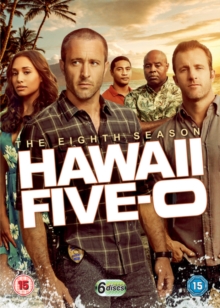 Hawaii Five-0: The Eighth Season
DVD
Description
All 25 episodes from the eighth season of the re-imagined drama following an elite task force formed to investigate serious crimes in the Hawaiian Islands.
Commander Steve McGarrett (Alex O'Loughlin), an ex-Navy SEAL, heads up the Five-0 task force and is joined by Detective Danny Williams (Scott Caan), Officer Tani Rey (Meaghan Rath) and Special Consultant Jerry Ortega (Jorge Garcia).
Together they set out to maintain order in paradise and have to deal with such issues as state corruption, terrorism threats, homicide and human trafficking.
The episodes are: 'A'ole e 'olelo mai ana ke ahi ua ana ia (Fire Will Never Say That It Has Had Enough)', 'Na La 'Ilio (Dog Days)', 'Kau pahi, ko'u kua.
Kau pu, ko'u po'o (Your Knife, My Back. My Gun, Your Head)', 'E uhi wale no 'a'ole e nalo, he imu puhi (No Matter How Much One Covers a Steaming Imu, the Smoke Will Rise)', 'Kama'oma'o, ka 'aina huli hana (At Kama'oma'o, the Land of Activities)', 'Mohala I Ka Wai Ka Maka O Ka Pua (Unfolded By the Water Are the Faces of the Flowers)', 'Kau Ka 'Onohi Ali'i I Luna (The Royal Eyes Rest Above)', 'He Kaha Lu'u Ke Ala, Mai Ho'okolo Aku (The Trail Leads to a Diving Place; Do Not Follow After)', 'Make Me Kai (Death at Sea)', 'I Ka Wa Ma Mua, I Ka Wa Ma Hope (The Future Is in the Past)', 'Oni Kalalea Ke Ku A Ka La'au Loa (A Tall Tree Stands Above the Others)', 'Ka Hopu Nui 'Ana (The Round Up)', 'O Ka Mea Ua Hala, Ua Hala Ia (What Is Gone Is Gone)', 'Na Keiki A Kalaihaohia (The Children of Kalaihaohia)', 'He Puko'a Kani 'Aina (A Coral Reef Strengthens Out Into Land)', 'O Na Hoku O Ka Lani Ka I 'Ike Ia Pae (Only the Stars of Heaven Know Where Pae Is)', 'Holapu Ke Ahi, Koe Iho Ka Lehu (The Fire Blazed Up, Then Only Ashes Were Left)', 'E Ho'Oko Kuleana (To Do One's Duty)', 'Aohe Mea Make I Ka Hewa; Make No I Ka Mihi Ole (No One Has Ever Died for the Mistakes He Has Made; Only Because He Didn't Repent)', 'He Lokomaika'I Ka Manu O Kaiona (Kind Is the Bird of Kaiona)', 'Ahuwale Ka Nane Huna (The Answer to the Riddle Is Seen)', 'Kopi Wale No I Ka I'a A 'Eu No Ka Ilo (Though the Fish Is Well Salted, the Maggots Crawl)', 'Ka Hana A Ka Makua, O Ka Hana No Ia A Keiki (What Parents Will Do, Children Will Do)', 'Ka Lala Kaukonakona Haki 'Ole I Ka Pa A Ka Makani Kona (The Tough Branch That Does Not Break in the Kona Gale)' and 'Waiho Wale Kahiko (Ancients Exposed)'.
Information
Format:DVD
Region:2,4
Certification:(15)
EAN:5053083163778
Catalogue number:8316377
Studio:Paramount Home Entertainment
Release date:24/09/2018
Genre:Drama
Colour:Colour