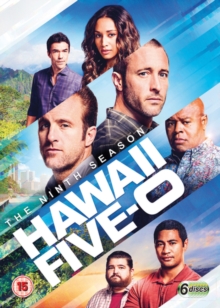 Hawaii Five-0: The Ninth Season
DVD
Description
All 25 episodes from the ninth season of the re-imagined drama following an elite task force formed to investigate serious crimes in the Hawaiian Islands.
Commander Steve McGarrett (Alex O'Loughlin), an ex-Navy SEAL, heads up the Five-0 task force and is joined by Detective Danny Williams (Scott Caan), Officer Tani Rey (Meaghan Rath) and Special Consultant Jerry Ortega (Jorge Garcia).
Together they set out to maintain order in paradise and have to deal with such issues as state corruption, terrorism threats, homicide and human trafficking.
The episodes are: 'Ka 'owili oka'i (Cocoon)', 'Ke Kanaka I Ha'ule Mai Ka Lewa Mai (The Man Who Fell from the Sky)', 'Mimiki Ke Kai, Ahuwale Ka Papa Leho (When the Sea Draws Out the Tidal Wave, the Rocks Where the Cowries Hide Are Exposed)', 'A'ohe Kio Pohaku Nalo i Ke Alo Pali (On the Slope of the Cliff, Not One Jutting Rock Is Hidden from Sight)', 'A'ohe Mea 'Imi A Ka Maka (Nothing More the Eyes to Search For)', 'Aia I Hi'Ikua; I Hi'Ialo (Is Borne On the Back; Is Born in the Arms)', 'Pua A'e La Ka Uwahi O Ka Moe (The Smoke Seen in the Dream Now Rises)', 'Lele pu na manu like (Birds of a Feather...)', 'Mai Ka Po Mai Ka 'oia'i'o (Truth Comes from the Night)', 'Pio ke kukui, po'ele ka hale (When the Light Goes Out, the House Is Dark)', 'Hala i ke ala o'i'ole mai (Gone On the Road from Which There Is No Returning)', 'Ka hauli o ka mea hewa 'ole, he nalowale koke (A Bruise Inflicted On an Innocent Person Vanishes Quickly)', 'Ke iho mai nei ko luna (Those Above Are Descending)', 'Ikiiki i ka la o Keawalua (Depressed With the Heat of Keawalua)', 'Ho'Opio 'Ia E Ka Noho Ali'I A Ka Ua (Made Prisoner By the Reign of the Rain)', 'Hapai ke kuko, hanau ka hewa (When Covetousness Is Conceived, Sin Is Born)', 'E'ao lu'au a kualima (Offer Young Taro Leaves To)', 'Ai no i ka 'ape he mane'o no ko ka nuku (He Who Eats 'Ape Is Bound to Have His Mouth Itch)', 'Pupuhi ka he'e o kai uli (The Octopus of the Deep Spews Its Ink)', 'Ke ala o ka pu (Way of the Gun)', 'He kama na ka pueo (Offspring of an Owl)', 'O ke kumu, o ka mana, ho'opuka 'ia (The Teacher, the Pupil - Let It Come Forth)', 'Ho'okahi no la o ka malihini (A Stranger Only for a Day)', 'Hewa ka lima (The Hand Is at Fault)' and 'Hana Mao 'ole ka ua o Waianae (Endlessly Pours the Rain of Waianae)'.
Information
Format:DVD
Region:0
Certification:(TBA)
EAN:5053083196202
Catalogue number:8319620
Studio:Paramount Home Entertainment
Release date:23/09/2019
Genre:Drama
Colour:Colour