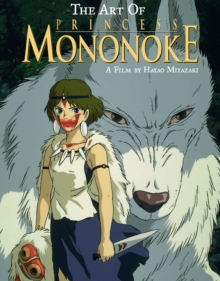 Art of Princess Mononoke
Hardback
Description
Another in the popular line of Studio Ghibli artbooks, which include interviews with and concept sketches by the director of classics such as Spirited Away and My Neighbor Totoro, as well as finished animation cels from the movie.
Princess Mononoke was the first Hayao Miyazaki film to break out into the mainstream.
The journey from initial idea to the big screen is captured here, in the hundreds of images from preliminary sketches to dynamic animation cels.
Information
Format: Hardback
Pages: 224 pages
Publisher: Viz Media, Subs. of Shogakukan Inc
Publication Date: 26/08/2014
Category: Animated films
ISBN: 9781421565972
Free Home Delivery
on all orders
Pick up orders
from local bookshops
Reviews
Showing 1 - 1 of 1 reviews.
Review by zzshupinga
16/06/2015
Based upon review written for No Flying, No TightsWhen it comes to talking about modern animation the conversation has to start with Hayao Miyazaki, one of the most well respected creator today. Often called the Walt Disney of Japan, Miyazaki's movies have had a prolific impact upon animation and storytelling. One of his most well known and well loved films, Princess Mononoke, was also his first film to make it American audiences. In Princess Mononoke viewers are introduced to a variety of beautiful, majestic, and terrifying spirits and creatures that inhabit the forest world, and the destruction of that world that leads to horrible consequences. But Miyazaki's original concept for Princess Mononoke was much different than what we see in the films. These two books from Viz media show what the original story was, what it came to be, and the beautiful illustrations that capture both stories. While this oversized and beautifully illustrated storybook that feature original watercolors by Miyazaki feels, and looks, like a children's book it isn't. Miyazaki created these illustrations and story to show film and TV studios what he was planning in order to find backing to produce the feature. Sadly none of them took Miyazaki up on the story and he stashed it away out of sight...until now. Thanks to Viz Media we get to see what the original story and concept of the movie was. Miyazaki's original story for Princess Mononoke, was about a lost samurai, a young girl, an evil spirit, and a wild and fierce Mononoke. After a long war, a lost samurai encounters a giant Mononoke. Instead of eating the warrior, the Mononoke agrees to let him live...in exchange for his daughter's hand in marriage. But before the Mononoke can come to take the daughter's hand, an evil spirit entraps the samurai and the daughter will not wed til he is free. And their begins a journey the Mononoke and the daughter take together. One word of note, some readers may be turned off by the book because the story isn't really fleshed out and the characters don't really have names. For example, the daughter is referred to as daughter number 3 throughout the entire book. But, as mentioned earlier, this was not intended as a book, but as a way to sell the concept to studios. What this book does show is how Miyazaki put together initial concepts and how vastly different stories can be from concept to finish.The artbook will be more familiar to Ghibli book fans, as it shows the concept and art behind the film that viewers know and love today. It includes interviews, concept sketches, watercolor illustrations of the characters and creatures in their first forms, and finished animation cels from the final movie. This a beautifully produced hardcover book that readers will treasure and enjoy for a long time as they examine in detail the spirits and creatures of the forest, their surroundings, and how they came to be. Another nice feature of the book is that it includes tutorials on how the film was made, as well as a production diary that lists milestones and activities of things that occurred, such as Miyazaki's acupuncture appointments. As an added bonus, both books include original essays by Miyazaki introducing the concept behind the original story, what it became, and what he wished has been different. While the storybook contains less of a story and more of a concept, fan of Ghibli and Miyazaki will enjoy both of these titles and examining the illustrations in them. I would highly recommend both titles also to anyone interested in animation, to see one way to put together concepts, stories, and storyboarding.