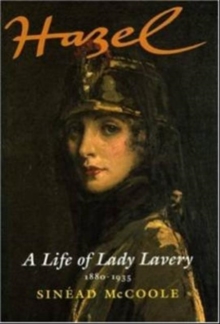 Hazel : A Life of Lady Lavery 1880-1935
Paperback
Description
Lady Lavery has been remembered for the numerous portraits by her husband, the painter Sir John Lavery, celebrated in 'The Municipal Gallery Re-visited' by W.B.
Yeats.This first biography of Hazel, first published in 1996 and now reissued, tells the story of how a girl from boomtown Chicago became one of the most stylish society hostesses in London, turning her husband's studio into a hub of Anglo-Irish diplomacy, from the 1921 Treaty negotiations through the tumultuous early years of the Irish Free State.
Using hitherto-unpublished letters and scrapbooks, Sinead McCoole gives a vivid account of Hazel's artistic and political preoccupations, and of her extraordinary effect upon the male politicians of Ireland and Britain, for whom she and her salon represented common ground.Romance and politics converged in her relationships with two hard men of nationalist Ireland who each met violent deaths, Michael Collins and Kevin O'Higgins, whose passionate letters to Hazel reveal the inner man beneath the political carapace.Hazel also forged durable alliances with the pillars of British government - Winston Churchill, Ramsay MacDonald and Lord Londonderry among others - while relishing friendships with leading writers of the day such as G. B. Shaw, J.M. Barrie, Lennox Robinson and Evelyn Waugh.This lavishly illustrated, richly documented life of Lady Lavery relates how one beautiful American woman reinvented herself as 'a simple Irish girl' and came to personify Eire on Ireland's banknotes, 'living and dying ...as though some ballad-singer had sung it all'.
Information
Format: Paperback
Pages: 256 pages
Publisher: The Lilliput Press Ltd
Publication Date: 01/09/2015
ISBN: 9781843516439
Free Home Delivery
on all orders
Pick up orders
from local bookshops