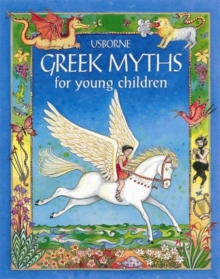 Greek Myths for Young Children
Hardback
Description
This collection of the best-known of the Greek myths has been carefully written to appeal to young children who will find these stories of gods, mortals and monsters irresistible.
Beautiful illustrations by Linda Edwards bring the myths to life for children of all ages.
Free Home Delivery
on all orders
Pick up orders
from local bookshops
Reviews
Showing 1 - 4 of 4 reviews.
Review by ms.awesome
16/06/2015
I like greek mythology so I'm glad I found this book. Really cool. :)
Review by TimmyP
16/06/2015
Bought this book for my son (8 years old). He really enjoys it. Includes most of the classic Greek myths (Pandora, Hercules, King Midas,Perseus etc). The stories are shortened quite a bit and written in kid friendly language. Great for beginner readers but would probably be less interesting once a child is 10-11 years old. Also has nice some simple but nice pictures.
Review by aholli3
27/08/2015
I thought that this compilation of Greek myths was incredible for young readers, and even older readers. My two favorite things about the book were the illustrations and the characters. Throughout the book, there are many different illustrations that are simple, yet helpful to the readers. Each illustration is inside of a border; this border changes when the specific myth changes. This can help children who may have trouble focusing. Although I would have preferred more illustrations, I believe that the illustrator did a great job portraying what the characters of the myths looked like. Additionally, I enjoyed the characters in the book because I believe that there was a large variety. Rather than the author focusing every mythical story on gods and goddess, he broadened the range and discussed mortals and monsters as well. I believe that all of the characters were well-developed and the stories did a great job by explaining each of their characteristics. Although the book may be confusing to younger readers, it still provides many great myths that adults can read to their children. The overall idea of this book was to write a story about gods, goddesses, monsters, and mortals to appeal to young children and to raise their interests to learn more.
Review by csmith109
27/08/2015
In my opinion, this is a good traditional literature book. I personally enjoyed the illustrations because of their simplicity. Although the pictures are simple, they help readers follow along with the book. I also really liked how they were not a distraction. There were not that many illustrations throughout the book so they did not distract from the reading. I also really liked the characters. The characters were very well represented when it came to comparing them to the real Gods and Goddesses. All of the characters were well explained and very well- developed. The main idea of this book is to share Greek myths with the world.