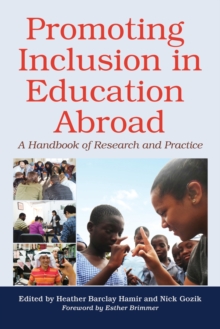 Promoting Inclusion in Education Abroad : A Handbook of Research and Practice
Hardback
Description
While education abroad aEURO" including studying, volunteering, researching, and interning abroad aEURO" is increasingly emphasized as a critical factor in preparing undergraduates for a globally interconnected world, diversifying the pool of participants in such activities has proven challenging. Framed within the concept of aEURO inclusive excellenceaEURO , with the objective of promoting diversity, inclusion, and equity in higher education as foundational to educational excellence, the contributors present research and practices that have been proven successful in improving participation among groups of students traditionally underrepresented in education abroad. Broader participation in education abroad programming has been a perennial concern at numerous higher education institution in the U.S., having prompted countless discussions in professional organizations and across campuses among faculty, staff, and students.
Many have come to recognize that overseas opportunities are no longer a luxury and instead are a necessity for job seekers entering a more diverse, globally interconnected workplace. The volume offers a combination of research-based chapters and case studies from leading experts on the barriers that disproportionately impact specific groups of students, including: students with disabilities; first-generation college students; undocumented students; racial and ethnic minorities; science, technology, engineering, and mathematics (STEM) majors; and males.
The authors illuminate the issues which may inhibit education abroad participation, from individual to institutional, and present strategies reflecting a broad range of institutional contexts, resources, and needs.
Free Home Delivery
on all orders
Pick up orders
from local bookshops