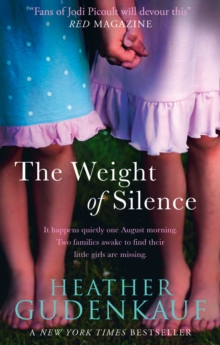 The Weight of Silence
Paperback
Description
"Two little girls are missing. Both are seven years old and have been missing for at least sixteen hours."Calli Clark is a dreamer.
A sweet, gentle girl, Callie suffers from selective mutism, brought on by a tragedy she experienced as a toddler.
Her mother Antonia tries her bestto help, but is trapped in a marriage to a violent husband.Petra Gregory is Calli's best friend, her soul mate and her voice.
But neither Petra nor Calli have been heardfrom since their disappearance was discovered.Now Calli and Petra's families are bound by the question of what has happened to their children.
As support turns to suspicion, it seems the answers lie trapped in the silence of unspoken secrets.Praise for Heather Gudenkauf`Set to become a bookclub staple'-The Guardian`This will have you gripped until the last page'- Closer"Beautifully written, compassionately told, and relentlessly suspenseful."-Diane Chamberlain`Deeply moving and lyrical'-Company`A memorable read'- Sunday Express`Totally gripping'- Marie Claire'Fans of Jodi Picoult will devour this'--Red'Gudenkauf's prose is searingly raw...
Thrilling and emotionally tender, this novel, with its driving pace,will appeal to fans of...Jodi Picoult.'-Booklist`This gripping novel is moving and thought-provoking'-Heat`Emotionally-charged'-My Weekly
Information
Format: Paperback
Pages: 416 pages
Publisher: Mira Books
Publication Date: 16/04/2010
ISBN: 9780778303695
Free Home Delivery
on all orders
Pick up orders
from local bookshops
Reviews
Showing 1 - 5 of 6 reviews.
Previous | Next
Review by nyiper
16/06/2015
A very fast read. There wasn't a wasted word in this book---going from chapter to chapter, each from the point of view of a different character in the book. The suspense held right to the end. I look forward to what she writes next.
Review by nicx27
16/06/2015
I felt this book got off to a slightly slow start, but as soon as I was into the story I was absolutely flying through it, and couldn't wait to get to the next chapter to see what had happened to the two girls who had gone missing from their beds during the night.All the action takes place over one day as the girls' families and the police try frantically to find them. The story is told from a number of different viewpoints, in nice, short, easy to read chapters, and it unfolds really well, as we find out more and more background information about the girls' family life.This book will appeal to fans of Diane Chamberlain, as the style is very similar. I look forward to reading Heather Gudenkauf's next book.
Review by elliepotten
16/06/2015
This wouldn't usually have been the kind of book I'd pick up to read, but since it is a TV Book Club pick I thought I'd follow that finest book club ethic and give it a go. It opens with two little girls, Petra and Calli, leaving their homes in the early morning. Calli, a selective mute who stopped speaking after a tragedy when she was a toddler, is dragged into the forest by her drunken father Griff, and Petra follows the two familiar figures she sees out of her window, hoping to say hello. Within hours, both girls have been reported missing and the story really begins. Where are they, why have they disappeared, and who is responsible? And will this dreadful day help unravel the mystery of why Calli lost her voice? The narrative is split into short, bitesize chapters, switching between several characters as events unfold. I found this quite a compelling device, as it helped slowly fill in the blanks as to what was happening and kept up the pace effectively. It also allowed the history between characters and within the two families to be explored from different viewpoints, though at times this felt quite dull and dragged me too far out of the excitement of the search for the missing girls. The viewpoint of Ben, Calli's devoted older brother, was my favourite, as it managed to help explain their family dynamics and offer a moving portrait of a protective sibling relationship, without ever becoming dull or cloying. Calli's narration is the only one written in the third person, which seemed odd since she may be mute, but she still has the same thoughts and reactions as her friend Petra.On the whole I enjoyed the book, but found it a bit bland. There are a lot of intense themes incorporated into this novel, including domestic violence, child abuse and alcoholism, but Gudenkauf never really delves deeply enough into any of them to make it a serious fictional study; nor is the investigation into the girls' disappearance exciting enough to slot this into the category of crime thriller. It was definitely a well-paced book, easy to finish within a couple of days, but it didn't really hit the spot for me and I won't be keeping it to read again.
Review by super_nicola
16/06/2015
I enjoyed this book so much i bought her other book. 4/5 stars from me. At times i found this book predictable but i enjoyed it none the less.
Review by Lucybird
16/06/2015
The Weight of Silence is described in more than one place as a book Jodi Picoult fans will love. Well I'm a Jodi Picoult fan, but to be honest that's not something that would make me want to read a book, what's the point of reading a book that's like a book you have already read, I don't know. I can certainly see the comparison between Gundenkauf and Picoult, they have very similar writing styles and both seem to like using multiple narrators. However that's where the comparison really ends. While Pioult's books tend to have some central moral issue which gets the reader thinking there was no such issue in Weight of Silence. I suppose it is similar in the way we see different emotions and views of an event, but there is no internal debate.I did enjoy it all the same. It was actually a little bit of a mystery as we tried to work out what had happened to Petra (we are basically told what happened to Calli, or at least to a certain point). I admit that I did expect Calli's mutism to be more of a central theme but really, while it was an interesting aspect, it didn't seem necessary [highlight for spoiler]and where it could have mattered it didn't that much. Nobody thought that Calli's brother had actually hurt Petra, even though that was all she said. Calli's big moment could have been done so much better and given a twist in the plot, or even just taken the reader in another direction. I did also guess what I think was meant to be a twist in the story [highlight for spoiler] and quite early on suspected Lucky. I really wasn't surprised when we found out for sure it was him.The story was quite moving though, but not to the level where I felt uncomfortable reading it (I'm not sure if that is a good thing or not). It was very readable, in that it was written in an easy way to read and in that I wanted to find out what happened next. I also really liked how Calli's chapters were written in the third person rather than her own voice (as the other chapters were) which suggested she couldn't tell her story.