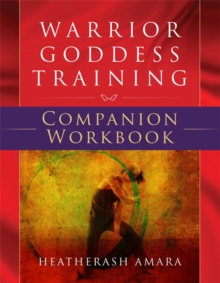 Warrior Goddess Training Companion Workbook
Paperback
Description
In Warrior Goddess Training, bestselling author HeatherAsh Amara provided the antidote to the flawed idea that you are not enough.
Direct, honest and unapologetic, Warrior Goddess Training has helped thousands of womenrelease layers of expectations to reveal the authentic, perceptive, perfect person within. In this Warrior Goddess Training Companion Workbook, you can practise putting this knowledge into action.
Read it simultaneously with Warrior Goddess Training: Become the Woman You Are Meant to Be, or after you've completed the primary book.
It will accompany you as you build your selfesteem, rev up your inner power and take new, authentic actions in the world on your way to becoming a Warrior Goddess. This workbook features an expanded discussion of the 10 main lessons and exercises from Warrior Goddess Training, over 20 brand-new exercises, plus an in-depth Q&A section where the author addresses the most common obstacles women face on the Warrior Goddess path. Let this book be a beacon that illuminates the hidden places within you, that shines bright like the sun on any old fears and unhealthy patterns, and helps you burn away your limitations and struggles to reveal the WarriorGoddess within.
Free Home Delivery
on all orders
Pick up orders
from local bookshops