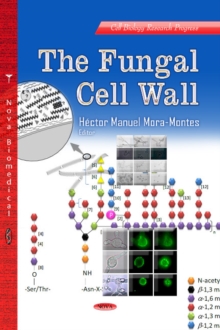 Fungal Cell Wall
Hardback
Description
The fungal cell wall is a shield that protects the cells against changes in the extracellular environment, and from the high internal pressure generated during cell growth.
These protective attributes are associated with cell wall robustness and strength, but at the same time the wall has to be plastic and dynamic to allow cell growth and communication with the external environment.
The main components of the cell wall are sugars, proteins and lipids.
Sugars are the most abundant components of the wall, and are mostly present as polysaccharides of glucose (alpha- and beta-glucans), N-acetylglucosamine (chitin), and glucosamine (chitosan).
Most of the cell wall proteins are glycoproteins modified by a glycolipid and/or oligosaccharides covalently attached to asparagine (N-linked glycosylation) or serine/threonine residues (O-linked glycosylation).
These wall proteins play important roles in cell wall integrity and structure, sensing changes in the extracellular environment, and some of them have adhesive properties and hydrolytic activities.
Information
Format: Hardback
Pages: 373 pages
Publisher: Nova Science Publishers Inc
Publication Date: 01/07/2013
Category: Mycology, fungi (non-medical)
ISBN: 9781626182295
Free Home Delivery
on all orders
Pick up orders
from local bookshops