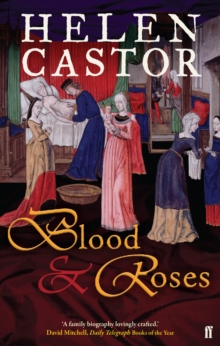 Blood and Roses
Paperback
Description
The Wars of the Roses turned England upside down. Between 1455 and 1485 four kings, including Richard III, lost their thrones, more than forty noblemen lost their lives on the battlefield or their heads on the block, and thousands of the men who followed them met violent deaths.
As they made their way in a disintegrating world, the Paston family in Norfolk family were writing letters - about politics, about business, about shopping, about love and about each other, including the first valentine.Using these letters - the oldest surviving family correspondence in English - Helen Castor traces the extraordinary history of the Paston family across three generations.
Blood & Roses tells the dramatic, moving and intensely human story of how one family survived one of the most tempestuous periods in English history.
Information
Format: Paperback
Pages: 384 pages
Publisher: Faber & Faber
Publication Date: 02/06/2005
Category: British & Irish history
ISBN: 9780571216710
Free Home Delivery
on all orders
Pick up orders
from local bookshops
Reviews
Showing 1 - 2 of 2 reviews.
Review by satyridae
16/06/2015
Interesting but so full of minute details that it wore me out. Excellent scholarship, wonderful recreation of the times, but ultimately too much of a good thing.
Review by Helenliz
16/06/2015
I found this a nice, relatively easy, but informative read about the Paston family, taking as source material that treasure trove from the Middle ages, the Paston letters. Being of Norfolk stock with a mother who's keen on history, I've known of the Paston letters for some time, but I've never realised how extensive they are. The Paston family were prodigious correspondents in the middle ages, and seem to have been inveterate filers of this correspondence. Their descendents, though, seem to have not tidied up for a couple of hundred years, because the letters then turn up in the mid 1700s, and are catalogued for the first time. I had in my head there'd be a couple of letters. Turns out that there are surviving over 1000 from about a 100 years. And they wrote about everything. The important events of the day, land squabbles, money worries, clothes, cloth, life, death, betrayal - everything. All of life is in these. And the great thing about them is that if you took away the archaic phrasing and language, they and their emotions, hopes, fears are so recognisable. In this book, you're taken through the events of the family and the wider country as they rise from peasant farmers to the nobility. It's not a smooth ride, and they get involved in disputes about land and wills, they make bad decisions about patrons and who to appeal to for help, they are pig headed, they go to war, they survive battles and all the while their letters contain their thoughts, wishes, petty squabbles and disappointments. They are fascinating for the window they provide on the past, and that they are such characters in their own right.