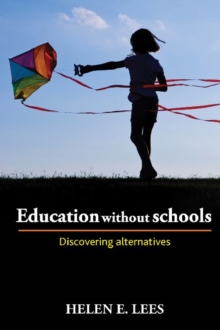 Education without Schools : Discovering Alternatives
Hardback
Description
At a time when education and school choices are under increasing scrutiny, this topical book considers education more broadly than ever before.
The author, an experienced teacher and researcher, highlights what happens when parents discover that an alternative to school education exists and is legal.
This under-researched topic highlights the lack of governmental interest in alternative education and also considers the human rights issues, conflation with safeguarding, the relationship of the state to education and parental education choice.
Focusing on the discovery of elective home education (EHE) in England as a case study for new and necessary arguments, the ideas discussed are also relevant internationally.
The book considers the global fact of education as not just mainstream schooling, but how the dominance of schooling has affected our ability to conceive of education as diverse and different.
This thought-provoking book will appeal to academic, teaching and policy-making audiences.
Information
Format: Hardback
Pages: 192 pages, No
Publisher: Policy Press
Publication Date: 05/11/2013
Category: Society & social sciences
ISBN: 9781447306412