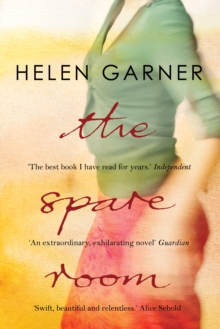 Description
Helen has little idea what lies ahead when she offers her spare room to an old friend of fifteen years.
Nicola has arrived in the city for treatment for cancer.
Sceptical of the medical establishment, placing all her faith in an alternative health centre, Nicola is determined to find her own way to deal with her illness, regardless of the advice that Helen can offer. In the weeks that follow, Nicola's battle against her cancer will turn not only her own life upside down but also those of everyone around her.
The Spare Room is a magical gem of a book that packs a huge punch, charting a friendship as it is tested by the threat of death.
Information
Format: Paperback
Pages: 208 pages
Publisher: Canongate Books Ltd
Publication Date: 07/05/2009
ISBN: 9781847672674
Free Home Delivery
on all orders
Pick up orders
from local bookshops
Reviews
Showing 1 - 5 of 5 reviews.
Review by gaskella
16/06/2015
Helen's old friend Nicola is coming to stay with her for three weeks while she undergoes an alternative cancer treatment - everything is ready for her. When Nicola arrives, it's clear that she's in a really bad state and that even though she won't admit it, she hasn't that long to live. Helen has to cope on two fronts - having to be her friend's carer, and also her anger at the useless yet expensive treatment Nicola's receiving - it doesn't help at all, and Helen is left to pick up the pieces. This short novel is the brutally honest story of a friendship that is tested to the limit, and the straws people will cling to in the belief that it'll do them good. Told from Helen's point of view, you'll laugh, cry and get angry with her all the way through, and it gives a real glimpse of what it's like to be a carer - even if only for a short while.
Review by Fluffyblue
16/06/2015
This book was pretty short, but well written. I have to say that rather disturbingly, I found myself getting a little irritated with the selfishness of Nicola in her refusal to accept that she had terminal cancer and the weird and wacky treatments she insisted on having. I suppose I was rooting for her but at the same time hoping that she would start listening to Helen and instead of making herself more ill by undergoing 'therapy' (which consisted of extremely high doses of vitamin C) and accept her inevitable fate. However, most of us don't actually want to die, so I suppose it was entirely natural for her to try everything she possibly could to live.
Review by silvercowrie
16/06/2015
I read this beautifully written story in one sitting and became so immersed that I almost forgot that it was a piece of fiction. This book has such a sense of being written by someone who has been through the experience of caring for a close friend who is dying. Although Helen, the narrator, has some reservations about her friend's visit and the treatment for cancer she is going to have during her stay, as she prepares her spare room, she sees the forthcoming visit as a time to spend together doing the things that they've always done like playing their ukeles in the evenings. Nothing has prepared her for the emotional and physical wringer this visit is going to put her through and the level to which her friendship is going to be stretched. Nicola needs to avail herself of Helen's spare room because she is no longer capable of getting to her own, difficult to access, home and she is pursuing dubious treatments which she is convinced will cure her cancer. In her denial of the nature of her illness, she doesn't see the rigorous demands that the side effects of the treatment and her declining health is putting on Helen who is having to change her sheets up to three times in the night. The writer doesn't shy from showing the full range of Helen's feelings including the anger and frustration and her inability to cope to the extent of counting the days to when her friend will no longer be in her spare room.This is an honest and bold book and the issues it raises would make it a perfect choice for a reading group. It is skillfully written with a light touch and some humour and delivers a powerful, emotional read.
Review by debnance
16/06/2015
Helen prepares her spare room for her friend, Nicola. Nicola has advanced cancer and is coming to stay with Helen while she undergoes an unorthodox treatment. I can't say enough good things about this book. The relationship between Nicola, the gadabout, and Helen, the steady and loyal friend, is fascinating. The contrast between Bess, the young granddaughter and Nicola, dying friend, is fascinating. The author allows the story to tell itself, a simple story, yet full of complexity.
Review by nocto
16/06/2015
A tale of one friend caring for another friend who is dying of cancer doesn't sound like much of a page turning novel, but it is. Nicola travels from Sydney to Melbourne to stay in Helen's spare room and get treatment from a new clinic. The relationship between them leaps from close to strained and back again as they both deal with the situation. Helen thinks the treatment Nicola is receiving is pure quackery, Nicola doesn't want to face the fact that she's going to die. Helen is up all night helping Nicola out, Nicola claims she doesn't need nursing. It's a great little book with a good mix of sad and happy parts. Good exploration of friendship and caring. A couple of things that seemed off to me: I find it a bit creepy when authors use their own name for characters - I don't mind if fiction is drawn from autobiography and have no idea if that's the case here or not - I just find it a bit weird. Of all the names out there couldn't they pick another? It makes me think there is some meaning to using their own name and that I'm missing something. And I found the end of the book a bit rushed; although I could see why the author had finished it as she did I was left wanting some more. Despite that I do appreciate the brevity - it's the kind of book where you get to realise things for yourself, the author doesn't feel the need to tell you the same thing over and over again.I'd recommend it.