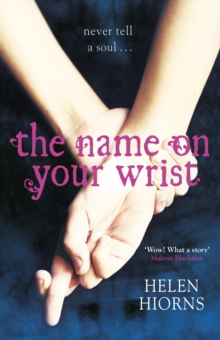 The Name on Your Wrist
Paperback
Description
It's the first thing they teach you when you start school.
But they don't need to; your parents tell you when you're first learning how to say your name.
It's drummed into you whilst you're taking your first stumbling steps.
It's your lullaby. From the moment it first appears, you don't tell anyone the name on your wrist. In Corin's world, your carpinomen - the name of your soul mate, marked indelibly on your wrist from the age of two or three - is everything.
It's your most preciously guarded secret; a piece of knowledge that can give another person ultimate power over you.
People spend years, even decades, searching for the one they're supposed to be with. But what if you never find that person? Or you do, but you just don't love them? What if you fall for someone else - someone other than the name on your wrist? And what if - like Corin - the last thing in the world you want is to be found?The gripping debut novel from the winner of the inaugural Sony Young Movellist Award.
Information
Format: Paperback
Pages: 272 pages, N/A
Publisher: Random House Children's Publishers UK
Publication Date: 02/01/2014
Category: Romance
ISBN: 9780552569521
Free Home Delivery
on all orders
Pick up orders
from local bookshops
Reviews
Showing 1 - 1 of 1 reviews.
Review by DubaiReader
16/06/2015
A clever concept.This book started out with a great concept, the idea that a name secretly appears on your wrist at the age of about 3 years, and this is the person you are destined to spend your life with, your soul-mate. So what happens if you can't find that person or, when you find them, there's no connection?Corin, however, is not happy with this, she wants to choose for herself, or even to choose not to have a life partner at all. She works her way through several lads named Thomas, or derivations thereof, and then takes a liking to Colton. By this time it is assumed by all that the name on her wrist is Thomas, so by going out with Colton, she basically labels herself a slut.Her family life is hard, she lost her father when she was young and is at constant loggerheads with her older sister. The mother is very much a background character.Unfortunately for me, the voice of the main character, was extremely irritating. She was constantly angry and self destructive - goodness knows why any of the Thomases, or Colton gave her the time of day. Her conversation was painful to read, there was simply no lull in her aggression.The concept of having your 'carpinomen', or life partner, marked on your wrist, hidden under a wrist guard, seemed to cause a few logistical problems that weren't quite flushed out - the large number of some names and lack of others made for a strangely lopsided distribution, and if you were searching for a Thomas, you wouldn't know which Thomas might have your name on his wrist.The author is still in her teens and this alone is an amazing achievement, but I'd have liked Corin to have showed a bit more maturity, some character traits that I could actually like. Maybe this type of behaviour is something that other teens can relate to more easily and if that is the case then this book is probably more suited to that age group and doesn't work so well as a cross-over novel.