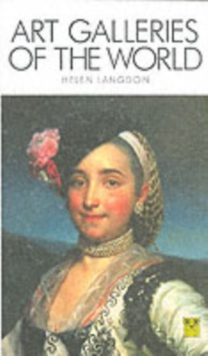 Art Galleries of the World
Paperback / softback
Description
A guide to over 800 museums, art galleries, churches and palaces in 33 countries.
Practical information provided includes: opening hours, addresses, telephone and fax numbers, Internet and email.
It features: a star rating system to highlight unmissable masterpieces; foreign language vocabulary; A-Z index of over 600 major artists and sculptors; and a glossary of art terms.
Guidebook, directory, reference work: this pocket companion to the art of the Western world is aimed at all art-lovers.
Helen Langdon not only takes us to the world's greatest museums, but also introduces a vast selection of lesser known galleries, churches, palaces and villas.
She points us to the outstanding paintings and sculptures, and draws attention to the strengths of each collection.
Arranged alphabetically by country, with introductory essays on each country's art and biographical index of over 600 major painters and sculptors, the book covers the whole range of Western art from the Early Renaissance to the present day.The new generation of art galleries, from Tate Modern to the Guggenheim Bilbao, is fully discussed, while special attention is given to particular treasures, such as the Venetian scuole, Titians in the Prado, or Pre-Raphaelite paintings in England. Among more that 200 colour illustrations are many unexpected pictures, tempting the reader to seek out less familiar collections.
Information
Format: Paperback / softback
Pages: 528 pages, over 200 colour illustrations
Publisher: Pallas Athene Publishers
Publication Date: 09/05/2003
ISBN: 9781873429464