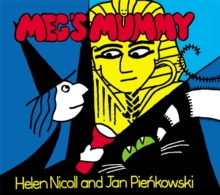 Description
Meg and Mog fly off on an adventure to Egypt. As they land on top of a pyramid, Meg accidentally lets go of her cauldron and poor Mog falls out, so she has to bandage him up.
While Meg is getting help, Mog is mistaken for a cat mummy and put inside the pyramid.
Luckily Meg manages to rescue him and makes a spell to take them home.
Information
Format: Paperback
Pages: 32 pages
Publisher: Penguin Books Ltd
Publication Date: 02/06/2005
Category: Picture books
ISBN: 9780140569780
Free Home Delivery
on all orders
Pick up orders
from local bookshops
Reviews
Showing 1 - 1 of 1 reviews.
Review by AbigailAdams26
16/06/2015
Meg and Mog set out to visit Egypt in this eighteenth picture-book adventure from author Helen Nicoll, and illustrator Jan Pienkowski. Landing on the top of a pyramid, the witchy-feline duo soon encounter disaster (an inevitability in their outings), as Mog is injured when the cauldron in which he is riding goes bouncing down to the ground. Bandaging him up, Meg sets out to get help, only to find him missing when she returns! On the hunt for the missing Mog, she soon finds herself inside the pyramid, where the guide tries to interest her in the mummy of Ptolemy, whose three hundred cats were also made into mummies...Like its predecessors, <u>Meg's Mummy</u> blends visually arresting artwork - bright colours, a simple but creative graphic layout, and excellent use of silhouette (one of Pienkowski's trademarks) - with a simple story that is split between the main narrative and numerous speech bubbles and sound words. I can't say I found it a particularly outstanding entry in this long-running witchy series - personal favourites include the first title, <u>Meg and Mog</u>, as well as <u>Meg's Castle</u> (#5), <u>Mog's Box</u> (#13), and <u>Meg, Mog and Og</u> (#16) - although it was entertaining enough, and will no doubt appeal to fans of the earlier books. That said, I did wonder a bit at Helen Nicoll's decision to name her mummy Ptolemy, and to describe him as being 3000 years old. Assuming she is thinking of Ptolemy I Soter, the founder of the Hellenistic Ptolemaic kingdom in Egypt, rather than the more famous mathematician of the same name, her dates are seven hundred or so years off. If she was indeed thinking of Claudius Ptolemy, then her dates are more than one thousand years off. Whichever it may be, this kind of blatant historical inaccuracy, even in books whose purpose is unrelated to historical instruction, is irritating enough to me that I subtracted half a star for it. I'm quite surprised that no editor spotted that one!
Also in the Meg and Mog series | View all