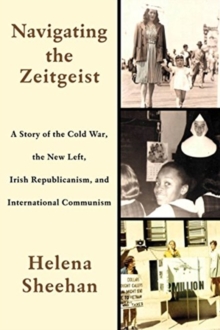 Navigating the Zeitgeist : A Story of the Cold War, the New Left, Irish Republicanism, and International Communism
Paperback / softback
Description
Why would an American girl-child, born into a good, Irish-Catholic family in the thick of the McCarthy era - a girl who, when she came of age, entered a convent - morph into an atheist, feminist, and Marxist?
The answer is in Helena Sheehan's fascinating account of her journey from her 1940s and 1950s beginnings, into the turbulent 1960s, when the Vietnam War, black power, and women's liberation rocked her bedrock assumptions and prompted a volley of life-upending questions - questions shared by millions of young people of her generation.
But, for Helena Sheehan, the increasingly radicalized answers deepened through the following decades. Beginning by overturning such certainties as America-is-the-world's-greatest-country and the-Church-is-infallible, Sheehan went on to embrace existentialism, philosophical pragmatism, the new left, and eventually Marxism.
Migrating from the United States to Ireland, she became involved with Irish republicanism and international communism in the 1970s and 1980s.
Sheehan's narrative vividly captures the global sweep and contradictions of second-wave feminism, anti-war activism, national liberation movements, and international communism in Eastern and Western Europe - as well as the quieter intellectual ferment of individuals living through these times. Navigating the Zeitgeist is an eloquently articulated voyage from faith to enlightenment to historical materialism that informs as well as entertains.
This is the story of a well-lived political and philosophical life, told by a woman who continues to interrogate her times.
Information
Format: Paperback / softback
Pages: 384 pages
Publisher: Monthly Review Press,U.S.
Publication Date: 31/01/2019
Category: Memoirs
ISBN: 9781583677278
Free Home Delivery
on all orders
Pick up orders
from local bookshops