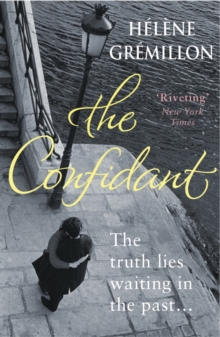 Description
'I got a letter one day, a long letter that wasn't signed.' Camille reads this narration of events from pre-war France, certain that it has been sent to her by mistake.
Then more letters start to arrive - They tell of a friendship struck up between a young village girl, Annie, and Madame M, a bourgeois lady.
To begin with the women simply share a love of art, but when Annie offers to carry a child for her infertile friend, their lives become intimately entwined.
The child is born on the eve of the German invasion of France, and the repercussions of her birth are still felt decades later.
This powerful first novel by Helene Gremillion is a gripping study of the destruction unleashed, when human desires for love and motherhood turn to obsession.
Information
Format: Paperback
Pages: 302 pages
Publisher: Gallic Books
Publication Date: 01/09/2012
ISBN: 9781908313294
Free Home Delivery
on all orders
Pick up orders
from local bookshops
Reviews
Showing 1 - 3 of 3 reviews.
Review by nicx27
16/06/2015
Camille lives in Paris in the 1970s and one day, shortly after her mother's death, she receives a letter telling her a story about things that happened during the war. At first Camille thinks the writer has sent the letter to her by mistake, but as she receives more letters she begins to realise that they are in fact meant for her.The letters are written by a man called Louis, and tell the story of Annie, a girl from his village who agrees to have a child for an older woman called Madame M. She appears to be unable to have children and is desperate. The book as a whole is narrated by Camille, with extracts from Louis and from Madame M's journal. It chops and changes quite quickly and if it wasn't for the different fonts used it would be a bit confusing.As it is, this is a reasonable book. I found myself racing through the first part but then lost momentum as it's a strange and disjointed read. I suspect a lot of it is because it's translated from the original which was written in French. Traditionally I find translations difficult to read and to have odd turns of phrase or they just don't seem to flow. However, this is quite a good story, clever with twists and turns and unexpected outcomes. Having it told from different viewpoints does make it interesting, as of course everybody sees it differently.On the whole, not an author I would seek out in the future, but not a bad read. I'll keep away from translations though.
Review by hashford
16/06/2015
The Confidant by Helen Gremillon – an imaginative and unusual story ***Recently bereaved and grieving for her mother, Camille feels unable to face the world. She is pregnant, but has recently split with the father of the baby, and she feels very alone. Luckily, however, she has struck up a friendship with the concierge of the block of flats she lives in.Along with the bereavement cards and wishes, Camille receives an anonymous letter. She initially assumes it is a mistake; but as more letters arrive every Tuesday, she realises that a story is unfolding, and starts to look forward to them. In the letters, she reads about a teenage boy's fascination with a girl in his village. As they grow older the girl, Annie, takes up with an older woman; realising the pain that the older woman feels due to her infertility (a source of great shame in 1930's France when women were exhorted to bear many children so that France could make up for its losses in WW1) Annie agrees to bear a child for her.Pregnant herself, Camille feels a strong connection with the story she is reading. But why are the letters addressed to her? Is there another message that the writer wants her to understand?This book is certainly unusual. The narrative jumps around, not only between the 1930s/40's and the 1970's, but between different protagonists – so that we see things from the point of view of Camille, the letter writer, Annie herself, and (in a later section) from the other woman. Although this makes the book difficult to read some of the time, it is also a source of great richness, as the events are shown through different people's eyes. Helpfully the font changes between the two time periods, so the reader shouldn't get too lost.Personally I found the narrative style of the first half of the book disjointed and hard to follow, and in places rather clunky with new ideas being introduced without context or back story, so that you wonder whether you missed something. It gets more coherent from just after halfway through – and this was when I started to really enjoy it.The ending has a lovely twist – I had to go back and read the last chapter a second time to make sure I had understood it!Overall, I found this a fascinating, imaginative and somewhat challenging read. I will certainly look out with interest to see what this author does next.
Review by elkiedee
27/08/2015
In Paris in 1975, Camille's mother has recently died and she is struggling to cope, when she receives the first of a series of long confessional letters from a man called Louis, recalling a love story set in the 1930s and 1940s. The Second World War and the German occupation of France are a backdrop to the story rather than a main part of it.Louis loved Annie from when they were at school together. Annie became friends with a wealthy woman who moved to their village. Madame M is desperate to have a baby and somehow persuades Annie to help her. A complicated, tragic story unfolds.I enjoyed reading this novel and working out the story, but I didn't find most of the characters entirely convincing – Annie seems too good to be true, and Madame M too scheming and unpleasant. Various references to historical events of the time seem to add little to the story, which is not about the political history of the time.With these reservations, this is still worth reading, and I would probably read another book by the author.