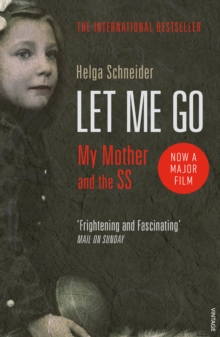 Description
When Helga Schneider was four, her mother, Traudi, abandoned her to pursue her career.
In 1998, Helga received a letter asking her to visit Traudi, now 90-years old, before she dies. Mother and daughter have met only once after Traudi left, on a disastrous visit where Helga first learnt the terrible secret of her mother's past.
Traudi was as an extermination guard in Auschwitz and Ravensbruck and was involved in Nazi 'medical' experiments on prisoners. She has never expressed even the slightest remorse for her actions, yet Helga still hopes that at this final meeting she will find some way to forgive her mother.
Information
Format: Paperback
Pages: 160 pages
Publisher: Vintage Publishing
Publication Date: 03/03/2005
Category: Autobiography: general
ISBN: 9780099443742
Free Home Delivery
on all orders
Pick up orders
from local bookshops
Reviews
Showing 1 - 4 of 4 reviews.
Review by yjeva
16/06/2015
A disturbing book of memoirs by the daughter of a female guard at Auschwitz - I kept hoping for just a glimmer of a happy ending but there was none.
Review by SmithSJ01
16/06/2015
It's hard to tell who this is about. As it was an autobiography I expected to read more about Helga's life; instead the focus is on her mother Traudi, making it more of a biography of her life. Very interesting to read and at times it makes for uncomfortable reading. Nevertheless this is a worthwhile experience. I had expected it to be even more detailed that it is actually is, so it was somewhat of an easier experience than anticipated. Overall it is well written but occasionally it drifts and it can be confusing as to whether you are reading the present or the recent past. The setting for the book is a visit to where Traudi is staying. She is 90 years old and it's just before she dies. Traudi left Helga and her brother Peter when she was 4; choosing her job for the SS over her children. Helga then met up with her again only once more before this visit. The relationship between mother and daughter is fascinating. I don't know if I hated her as much as Helga kept saying she did whether I would have stayed and suffered the abuse she was still dealing out at 90. It is both fascinating yet frank. Helga takes her cousin Eva with her on the visit and facts are revealed that Eva finds distressing; adding to Helga's discomfort and concerns. Being quite short at 149 pages it means you can read it in one sitting which might be better as there no actual chapters. Instead there are suitable places to stop reading should you need to. Worth a read but I don't know if I'll read the prequel 'The Bonfire of Berlin'.
Review by Booksloth
16/06/2015
A book along similar lines to Bernhard Schlink's The Reader, but this one is autbiography. It relates the author's visits to her dying mother who was once a guard in Hitler's labour camps. Schneider's mother was rarely around when she was a child and yet the mother/daughter bond is a hard one to ignore and this is the account of Schneider's attempts to reconcile her natural feelings for her mother with the knowledge of her mother's past. It's a book that asks more questions than it answers but that's no reason why the questions shouldn't continue to be asked.
Review by AlisonY
27/08/2015
I deliberately sought out this book after some of my earlier reading on WWII. I had a lot of questions in my mind about Nazi Germany - what did regular Germans think of the Nazi activities? Why did people sign up to the SS - was it propaganda, were they naturally evil anyway?I'm not sure I got all the answers I was looking for from this memoir, but it was an interesting (although not enjoyable) short read nonetheless. The author's mother abandoned her when she was 4 to work as an officer in the SS, and they had only met once previously, a disastrous visit in 1971 which left the author feeling more abandoned and repulsed than ever. Yet 27 years later she agrees to visit her mother one final time, as she is now in her 90s.Her mother volunteered to go to work at Birkenau, which gives you an idea of the kind of character she was. Her total lack of remorse made for some difficult reading. She totally bought into the Nazi ideology, and felt that the Jews were responsible for anything and everything that was wrong with Germany, from the country's loss in WWI to ongoing defeatism. Her thoughts about the adults extended to the Jewish children who were murdered as well, which was horrifying to read.Schneider understandably goes through a spectrum of emotions when she meets her mother. On the one hand she is repulsed by her character, disgusted that she is totally unrepentant about the acts she committed, and that the ideology meant more to her than her own children. Yet despite everything she still has the invisible tie of mother/daughter with her, which made for some very confusing emotions.Reading between the lines, I felt that Schneider still carries a lot of her own guilt about the war too, even though she was just 7 when it finished. Her stepmother's sister was Goebbel's secretary, and the children were invited into Hitler's bunker and also met him. Clearly the children were in no way responsible for their parental connections, yet it's very apparent that the author wishes to play down any such events that she partook in.3.5 stars for an interesting, if difficult, insight into the horrors of Nazi Germany.
Also by Helga Schneider