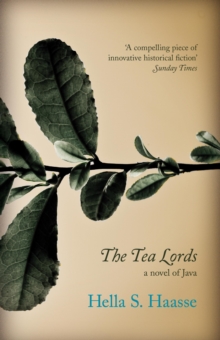 Description
Rudolf leaves his comfortable origins in Delft by ship for Java to help run the family's estates there.
He moves from plantation to plantation, attempting to understand the ways of the local peoples, their version of Islam and their relationship to their land.
On a visit to the capital, Jakarta, he falls in love with a teenage girl, Jenny, who he courts surreptitiously via his sister, with grave consequences for the reality of their relationships.
Eventually they marry, and make a hard colonist-couple's life theirs, bear, lose and raise children, before Jenny on her visit to the home country discovers all the comforts of which she has been deprived in Java.
Back at the plantation homestead, as the back-breaking work of establishing and maintaining business takes its toll on Rudolf, Jenny becomes estranged from him, and the bitter resentments of relatives eat at her until a terrible solution is achieved.
Information
Format: Paperback
Pages: 352 pages
Publisher: Granta Books
Publication Date: 01/09/2011
ISBN: 9781846271717
Free Home Delivery
on all orders
Pick up orders
from local bookshops
Reviews
Showing 1 - 2 of 2 reviews.
Review by alexbolding
16/06/2015
Finally a good historical novel ('faction') in Dutch, though I read it in English. Good translation. Why did I violate my principle to read authors as much as possible in their native language? Hmm, I got the impression that the hopelessly irritating, long sentences in Dutch distract me from the beauty of the prose and storyline. My impression is that there are very few Dutch authors, who can write Dutch in a concise, poetic style. Most Dutch authors simply can't write. So this was a test. And indeed I very much appreciate Haasse's novel on an extended family of Dutch patriarchs engaged in the Tea plantation business in the Preanger, the central Highlands in west Java, in the late 19th century. I love the principal idea informing the novel. Based on family letters, records and photographs Hella reconstructs and romanticises the life of one tea planter, from his frugal start after a study in civil engineering in Delft, to his expansion into five different tea/quinine estates linked to his person and his offspring. The story unfolds through 6 acts: (1) first day on the plantation (1873-Gamboeng); (2) scenes of preparation (preceding 1); (3) clearance and planting; (4) the couple; (5) the family (longest by far); (6) the last day at Gamboeng (1918). The style in which Haasse writes varies: mainly a third person narrative with Rudolf as main character; interspersed with letters; sometimes she takes a family photograph as the key to a scene. Rudolf Kerkhoven is the main character, but his brothers August and Julius, his wife Jenny and later his only daughter Bertha also make up important characters. Whilst Haasse succeeds, I think, in creating a well-written, crafty reconstruction of a Dutch tea planters life and the contradictions and flawed idealism of the Dutch colonial experience on Java, she fails completely in creating a credible account of the Indonesian population's experience of the same. So the whole story pivots around the Dutch settlers and their petty disputes, worries, and successes. A final word of praise concerns Haasse's elegant treatment of the sacrifices made by the female characters in the story: that is often an underplayed feature of many other writers engaging with historical 'faction'.
Review by HaleyWhitehall
16/06/2015
I had a hard time getting into this book, but once I did I enjoyed it. I learned a lot of Dutch Colonial history I did not know. Dutch colonialism in the East Indies (now Indonesia) is the setting for The Tea Lords. Rudolf Kerkhoven, a young rule follower from Holland, goes to the East Indies in the 1870's to join his Father's tea plantation.The life of tea planter in the Dutch West-Indies Rudolf Kerkhoven, based on real letters and other documents, though impressive by the hardships he encounters, is not very mysterious or filled with big worldly events. The way Haasse depicts his character and his interactions with others, however, kept me intrigued, but not hooked. The author has a unique writing style. If you are interested in Colonial history this book is worth reading.
Also by Hella S. Haasse