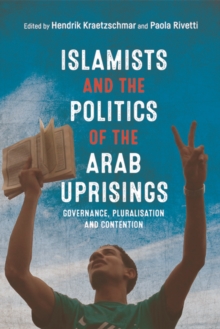 Islamists and the Politics of the Arab Uprisings : Governance, Pluralisation and Contention
Hardback
Description
Scrutinises the political strategies and ideological evolution of Islamist actors and forces following the Arab uprisingsWhat role does political Islam play in the genealogy of protests as an instrument to resist neo-liberalism and authoritarian rule?
How can we account for the internal conflicts among Islamist players after the 2011/2012 Arab uprisings?
How can we assess the performance of Islamist parties in power?
What geopolitical reconfigurations have the uprisings created, and what opportunities have arisen for Islamists to claim a stronger political role in domestic and regional politics?
These questions are addressed in this book, which looks at the dynamics in place during the aftermath of the Arab uprisings in a wide range of countries across the Middle East and North Africa.Key features22 case studies explain the diverse trajectories of political Islam since 2011 in Bahrain, Egypt, Iraq, Iran, Kuwait, Lebanon, Libya, Morocco, Qatar, Syria, Tunisia, Turkey and YemenProvides a comprehensive analysis of political Islam covering intra-Islamist pluralisation and conflict, governance and accountability issues, 'secular-Islamist' contention, responses to neo-liberal development and the resurgence of sectarianism and militancyOffers a set of innovative approaches to the study of political Islam in the post-Arab spring era that open new possibilities for theory development in the fieldContributorsIbrahim Al-Marashi, California State University San MarcosNazli Cagin Bilgili, Istanbul Kultur UniversitySouhail Belhadj, Graduate Institute of International and Development Studies in GenevaFrancesco Cavatorta, Laval University, QuebecCherine Chams El-Dine, Cairo UniversityKaterina Dalacoura, London School of Economics and Political Science Jerome Drevon, University of Oxford Vincent Durac, University College Dublin and Bethlehem UniversityLaura Ruiz de Elvira Carrascal, French Institut de Recherche pour le Developpement (IRD), ParisMelissa Finn, University of WaterlooCourtney Freer, London School of Economics and Political Science Angela Joya, University of OregonWanda Krause, Royal Roads UniversityMohammed Masbah, Chatham House and Brandeis UniversityAlam Saleh, Lancaster UniversityJillian Schwedler, City University of New York's Hunter College Mariz Tadros, University of Sussex Truls Tonnessen, Georgetown UniversityMarc Valeri, University of Exeter Anne Wolf, University of CambridgeLuciano Zaccara, Qatar UniversityBarbara Zollner, Birkbeck College
Information
Format: Hardback
Pages: 320 pages
Publisher: Edinburgh University Press
Publication Date: 30/06/2018
Category: Islam
ISBN: 9781474419253
Free Home Delivery
on all orders
Pick up orders
from local bookshops