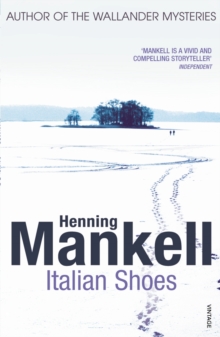 Description
Once a successful surgeon, Frederick Welin now lives in self-imposed exile on an island in the Swedish archipelago.
Nearly twelve years have passed since he was disgraced for attempting to cover up a tragic mishap on the operating table.
One morning in the depths of winter, he sees a hunched figure struggling towards him across the ice.
His past is about to catch up with him. The figure approaching in the freezing cold is Harriet, the only woman he has ever loved, the woman he abandoned in order to go and study in America forty years earlier.
She has sought him out in the hope that he will honour a promise made many years ago.
Now in the late stages of a terminal illness, she wants to visit a small lake in northern Sweden, a place Welin's father took him once as a boy.
He upholds his pledge and drives her to this beautiful pool hidden deep in the forest.
On the journey through the desolate snow-covered landscape, Welin reflects on his impoverished childhood and the woman he later left behind.
However, once there Welin discovers that Harriet has left the biggest surprise until last.
Information
Format: Paperback
Pages: 368 pages
Publisher: Vintage Publishing
Publication Date: 01/03/2010
ISBN: 9780099512981
Free Home Delivery
on all orders
Pick up orders
from local bookshops
Reviews
Showing 1 - 3 of 3 reviews.
Review by stefano
16/06/2015
I bought this book by mistake expecting it to me a mystery story (which it isn't). This book isn't for me: I become anxious when people behave unreasonably/erratically, even in books. There are however two themes that I found interesting, against the background of my previous exposure to the Stieg Larsson Millennium Trilogy: apparently Sweden is very concerned with 1) immigration (and its responsibility to asylum seekers); 2) gender struggle and the pain men inflict on women.
Review by cajela
16/06/2015
A novel without a detective, by the Swedish author of the Wallender series. Frederick Welin lives alone, a hermit on a remote island with no apparent hope for the future or connection to other people. He is old, and so too are his cat and dog. And then one day an old woman arrives with the mailboat, and Welin's solitude is broken. He must travel to meet people from his past, and their newer connections, including an Italian cobbler and some delinquent teen girls. It's as melancholy and icy as any of the Wallender books, though there is a touch of optimism and a beautiful sense of place.
Review by skraft001
16/06/2015
A marvelously written book by a master writer. Yes, it is a generally depressing tale -- but it's honest about life in a way that few books are. There are numerous passages that just grab you and beg to be written down or committed to memory. One that was so well phrased: 'Every morning when I woke up, I resolved to start making a serious attempt to put my life in order. I could no longer allow the days to slide past without anything constructive being done. But I got nowhere. I made no decisions. I occasionally lifted the tarpaulin over the boat and had the feeling that I was in fact looking at myself. The flaking paint was mine, as were the cracks and the damp. Perhaps even the smell of wood slowly rotting away.'It would be difficult to read this book without taking something away.