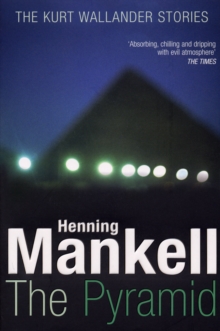 Description
When Kurt Wallander first appeared in Faceless Killers back in 1990, he was a senior police officer, just turned forty, with his life in a mess.
His wife had left him, his father barely acknowledged him; he ate badly and drank alone at night. The Pyramid chronicles the events that led him to such a place.
We see him in the early years, doing hours on the beat whilst trying to solve a murder off-duty; witness the beginnings of his fragile relationship with Mona, the woman he has his heart set on marrying; and learn the reason behind his difficulties with his father.
These thrilling tales provide a fascinating insight into Wallander's character, and demand to be read in one sitting.
From the stabbing of a neighbour in 1969 to a light aircraft accident in 1989, every story is a vital piece of the Wallander series, showing Mankell at the top of his game.
Featuring an introduction from the author, The Pyramid is an essential read for all fans of Kurt Wallander.
Information
Format: Hardback
Pages: 384 pages
Publisher: Vintage Publishing
Publication Date: 15/09/2008
ISBN: 9781846550973
Other Formats
Paperback from £7.65
EPUB from £3.99
eAudiobook MP3 from £20.96
Free Home Delivery
on all orders
Pick up orders
from local bookshops
Reviews
Showing 1 - 2 of 2 reviews.
Review by smik
16/06/2015
The Pyramid is a collection of 5 short stories which gives readers more insight into the personal life of Kurt Wallander. While it was written after the 8th novel, Firewall, the events depicted in The Pyramid take place well before Faceless Killers, making it 1st chronologically in the series. The first story takes place in 1979 while the final occurs in 1989. In the stories, the reader sees Wallander on his first case and also before he meets his future wife Mona.While a couple are short enough to be called short stories, at least the last two are long enough to be called novellas. * Wallander's First Case * The Man with the Mask * The Man at the Beach * The Death of the Photographer * The PyramidThey trace Wallander's relationship with Mona, who will become his wife, then his ex-wife; with Linda his daughter whom he recognises holds the marriage together long after he and Mona have decided it holds nothing for them; and his father with whom he has an almost love-hate relationship. They also trace Wallander's growth as a detective, from when he is mentored by Hemberg, when he is still basically a cop on the beat, through to his rise as a detective, and his relationship with Rydberg, the mentor who replaced Hemberg, until Wallander was promoted over him.As you do in the novels of Ian Rankin, Ruth Rendell and Donna Leon, the reader becomes aware of social change, as refugees flood into Sweden, and drug trafficking replaces the old ways criminals used to make money. Mankell sees himself as a social commentator, and Kurt Wallender as his mouthpiece: (this is from the Foreword to THE PYRAMID)"... the books have always been variations on a single theme: 'What is happening to the Swedish welfare state in the 1990s?..'.....Wallander has in a way served as a kind of mouthpiece for growing insecurity, anger and healthy insights about the relationship between the welfare state and democracy".I really enjoyed THE PYRAMID. Other reviewers have commented on a certain lack of tension in the short stories but then that is possibly the nature of a short story. I did feel a little as if this Kurt Wallander wasn't quite the same as the one we get in FACELESS KILLERS onwards. He is not the innocent depicted in his first case; he learns gradually not to "go it alone", after his impetuousness gets him into life threatening situations; his intuition is more carefully laid out for us than I remember in later novels.THE PYRAMID is eminently readable, and if you are already a Henning Mankell fan, then you won't want to miss it.
Review by devenish
16/06/2015
This collection comprises three short stories and two novellas. They tell us about Wallender's early cases and fill us in on several facts missing from the later stories. I particularly liked the bit in the last story,'The Pyramid' in which Wallender's father goes on holiday to Egypt and gets arrested for attempting to climb the Pyramids.Wallender has to fly out to extricate him.This is not quite such a good read as most of the series,but nevertheless is still essential reading for the completist.