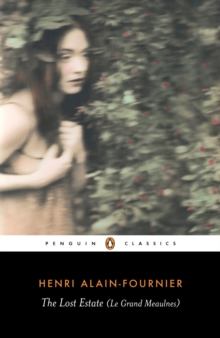 The Lost Estate (Le Grand Meaulnes)
Paperback
Description
The Lost Estate is Robin Buss's translation of Henri Alain-Fournier's poignant study of lost love, Le Grand Meaulnes.
This Penguin Classics edition also contains an introduction by Adam Gopnik.When Meaulnes first arrives at the local school in Sologne, everyone is captivated by his good looks, daring and charisma.
But when Meaulnes disappears for several days, and returns with tales of a strange party at a mysterious house - and his love for the beautiful girl hidden within it, Yvonne de Galais - his life has been changed forever.
In his restless search for his Lost Estate and the happiness he found there, Meaulnes, observed by his loyal friend Francois, may risk losing everything he ever had.
Poised between youthful admiration and adult resignation, Alain-Fournier's compelling narrator carries the reader through this evocative and unbearably poignant portrayal of desperate friendship and vanished adolescence.
Robin Buss's translation of Le Grand Meaulnes sensitively and accurately renders Alain-Fournier's poetically charged, expressive and deceptively simple style.
In his introduction, New Yorker writer Adam Gopnik discusses the life of Alain-Fournier, who was killed in the First World War after writing this, his only novel.Henri Alban-Fournier (1886-1914), better known by the pseudonym Alain-Fournier, was born in La Chapelle d'Angillon, the son of a country school-master.
He was educated at Brest and Paris, where he met the original Yvonne, who left a lasting impression on his life and work.
Le Grand Meaulnes was published in 1912. Alan-Fournier joined the army as a Lieutenant in August 1914, and was killed in action on the Meuse less than a month later.
Les Miracles, a volume of poems and essays, appeared posthumously in 1924.If you liked Le Grand Meaulnes, you might enjoy Gustave Flaubert's Sentimental Education, also available in Penguin Classics.'I read it for the first time when I was seventeen and loved every page.
I find its depiction of a golden time and place just as poignant now as I did then'Nick Hornby
Information
Format: Paperback
Pages: 256 pages
Publisher: Penguin Books Ltd
Publication Date: 03/05/2007
ISBN: 9780141441894
Free Home Delivery
on all orders
Pick up orders
from local bookshops
Reviews
Showing 1 - 4 of 4 reviews.
Review by barbararobson
16/06/2015
My husband to be recommended this when I was nineteen. His recommendations were always perfect, unlike me he only read the best! It had a huge and lasting impact on me. Pity about the film "The Wanderer" but then it is often difficult to translate the page to the screen.
Review by neurodrew
16/06/2015
Le Grand MeaulnesAlain-FournierFirst published in 1913, this novel is set in rural France in the last decade of the 19th century. It is a love story and a story of adolescent development, full of irrational and romantic behavior. The narrator is M. Seurel, a student in the upper form, in a rural school headmastered by his father. They accept a boarding student, Meaulnes, soon to be known as Le Grand because of his commanding behavior. He takes the initiative to drive to a rail station to pick up visitors, gets lost in a wood, stumbles across an elaborate wedding party, where he meets the girl of his dreams, and the bridegroom, who is jilted. He cannot find his way back to the setting of the wedding, and it becomes an obsession. After he leaves the school he goes to Paris, unwittingly falls in love with the bride of the jilted bridegroom, but later Seurel solves the mystery of the party, and re-introduces Meaulnes to his original love, whom he marries, then abandons to make amends to the bridegroom. The characters are romantic, the settings are atmospheric, and the story compelling.
Review by lindawwilson
16/06/2015
Did not measure up to the French Classic is was/is purported to be. Maybe you have to be French to understand it well. Much of the story was confusing and the characters were poorly developed. It had a lyric quality which was kind of nice, but not enough for me.
Review by KidSisyphus
16/06/2015
Dear Henri Alain-Fournier,<br/><br/>Some people claim you had great talent as a novelist. Many more would claim I don't. Is it fair that you died in World War I while I live, free to write this review and feeling like I'm having a bad morning because I didn't have all the usual ingredients for my breakfast shake? Your remains weren't identified until 1991, true, but do you know that without yogurt, steel cut oatmeal, goji berries and banana congeal like pond scum when blended with almond milk? I guess in a way translated works of fiction are like that, lacking an ingredient. Not really fair of me to judge you then, is it? And on top of that, I read somewhere that the Robin Buss translation I have isn't the best.<br/><br/>I don't know. Maybe I've been prejudiced against anything French because there's been a creepy mime wandering around the farmers' market on Saturdays. With the summer heat, its face make-up starts to melt and peel and it scares my kid and me. Or maybe, having discovered Woody Allen before James Dean, it's because I'm sentimental for my own sort of coming-of-age story. But the truth is, I found your novel sappy. Sappy to the <I>nth</I> degree. <br/><br/><I>"And that evening, sobbing, he asked Mademoiselle de Galais for her hand in marriage."</I><br/><br/>Barf.<br/><br/>Some folks describe it as dream-like. Well, I'll meet them halfway and say that it is conducive to a dream-like state, in as much as I found myself wanting to fall asleep as I read it. God! Germany probably invaded France so often to keep from nodding off. Can you blame them? They had all those big philosophical treatises to write, but then kept getting distracted by the latest Twilight prequel. And they would've even read it in the original French because all you Continentals speak five languages! <br/><br/>I tried to make excuses for you, thinking, "Look at it this way: it's a parable for post-colonial France. They were just coming off that Napoleonic high and had to simultaneously deal with the onset of modernity. It's a simple case of British/penis envy." But even my credulity can only stretch so far. <br/><br/>Goodbye, Alain-Fournier. Sorry your life was cut short by one of history's celebrated mistakes. Maybe this book will mean something to somebody else. It's going to have the opportunity, because I'm donating it to my library.