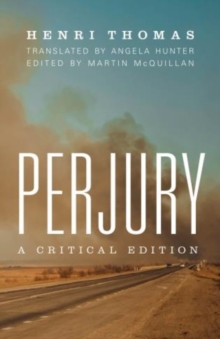 Description
Stephane Chalier is a young Belgian who, pushed by a struggle with his father over his life and intellectual ambitions, leaves his family behind to wander the United States.
The pretence for his departure is that he is going to write his thesis about "Hoelderlin in America", but instead he begins a nomadic lifestyle involving brief bouts of manual labor.
Stephane is unable to escape the appellation of "petit romantique!" his father, a renowned academic, used to deride him.
He is equally haunted by his father's constant refrain that Stephane was unable to find his path. As he finds and loses his path in America, his reflections on his past and present are linked directly or indirectly to the physical landscape through which he wanders, at first alone and later with a new family. Originally published in French in 1964, Le Parjure represents in fiction the life of celebrated literary theorist Paul de Man.
Thomas's novel was the subject of Derrida's essay 'Le Parjure, Perhaps', which is also reprinted in this critical edition of the novel.
Martin McQuillan attempts to separate fact from fiction, while considering the persistence of de Man as a character in fiction, both during his life (in Le Parjure and in Mary McCarthy's In The Groves of Academe) and posthumously (in Bernhard Schlink''s Die Heimkehr [The Home Coming], John Banville's Shroud, Gilbert Adair's The Death of the Author, the television series Signs and Wonders, and arguably Evelyn Barish's recent biography, The Double Life of Paul de Man). What is it about de Man's personality, personal history and work that leads to such fascination on the part of creative practitioners? The volume also includes essays by J. Hillis Miller, Ellen Burt and Tom Cohen, who explore the Thomas novel in relation to Derrida's essay and recent de Man scholarship.
Information
Format: Hardback
Pages: 240 pages
Publisher: Rowman & Littlefield International
Publication Date: 16/02/2018
ISBN: 9781786602152
Other Formats
Paperback / softback from £18.65
Free Home Delivery
on all orders
Pick up orders
from local bookshops
Also by Henri Thomas