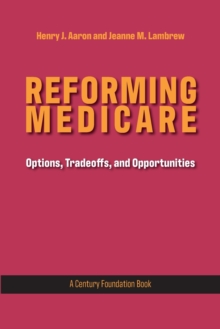 Reforming Medicare : Options, Tradeoffs, and Opportunities
Paperback / softback
Description
Everyone agrees on the need to reform Medicare but not on how to do it.
Some argue the program is too comprehensive, others that it is not comprehensive enough.
Some suggest it pays too much for health care, others, too little.
Meanwhile, the financial stakes continue to mount. Medicare spending exceeded $400 billion in 2007, making it more expensive than the entire health systems of most other nations, as well as the largest national public program other than Social Security and national defense.
In Reforming Medicare, Henry J. Aaron and Jeanne M. Lambrew deftly guide readers through this complex debate.
They identify and analyze the three leading approaches to reform.
Updated social insurance would retain the current system while rationalizing coverage and reducing bureaucracy.
Premium support would replace the current system with a capped, per-person payment that beneficiaries could use to buy health insurance.
Consumer-directed Medicare would have beneficiaries pay for care up to a high deductible from government- supported savings accounts and offer premium-support coverage above the deductible.
In addition to rating each option on its ability to promote access to health care, improve the quality of care, and control costs, the authors evaluate each reform's political strengths and weaknesses.
Given the heat generated by the Medicare debate, it is unlikely that any single approach will be implemented in full.
Consequently, Aaron and Lambrew describe incremental strategies that blend elements of each plan.
Their analysis provides essential insight into the types of hybrid policies that Congress will consider in coming years.
Free Home Delivery
on all orders
Pick up orders
from local bookshops