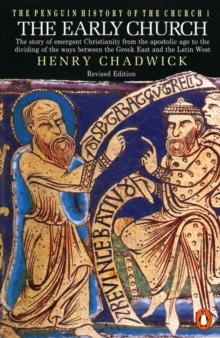 The Penguin History of the Church : The Early Church
Paperback
Description
Examines the beginning of the Christian movement during the first centuries AD, and the explosive force of its expansion throughout the Roman world
Information
Format: Paperback
Pages: 320 pages
Publisher: Penguin Books Ltd
Publication Date: 30/09/1993
Category: The Early Church
ISBN: 9780140231991
Free Home Delivery
on all orders
Pick up orders
from local bookshops
Reviews
Showing 1 - 5 of 5 reviews.
Review by deanc
16/06/2015
Originally published in 1967, The Early Church by Chadwick is the first in a seven-volume series, The Penguin History of the Church. Chadwick was a professor at Cambridge University and brother of series editor, Owen Chadwick, who wrote the third book, The Reformation. Henry Chadwick presents the highlights of church history from its Jewish antecedents of the early first century, through its first several centuries. He organizes the work around important issues and key individuals instead of following a purely chronological format. He makes it clear that the important orthodox doctrines most Christians take for granted today, such as the divine-human nature of Jesus Christ and the concept of the Trinity, were painstakingly forged on the anvil of conflict and controversy. Although written in the British English of 40-plus years ago, the book is a relatively easy read. It goes deeper than most one-volume overviews of church history, therefore I recommend it be read as a companion text to such a survey. It is light on the footnotes, but has a thorough index and a seven-page section of recommended books for further reading.
Review by vicarofdibley
16/06/2015
the begining of christianity to the middle ages
Review by sergerca
16/06/2015
This was a slog. Covering something so expansive is very tough, and Chadwick does his best. However, without knowing much about the various heresies, it's easy to wonder what the arguments were about. The chapters about the great, early thinkers and the evolution of the papacy and the mass are very well done. All in all, it's informative, not exciting. And I won't be running out to get any more books by Chadwick.
Review by beccabgood1
16/06/2015
This book should be required reading for every serious Christian. So much of what we are taught as "Eternal Truth" in church, and church schools, is based on politics and contemporary ways of thinking in the early church. Reading this book allowed me to think about the church in exciting new ways. It helped me start to separate out what is valuable, worthy of our reverence, and what is fallible, limited human thinking. It sounds rebellious, but it also supports what I consider to be "true" Christianity, by showing the context in which the fallible human additions came to be. Who am I to judge someone trying to make sense of Jesus in first century Palestine? Instead of wasting my time on anger, I can focus on figuring out what I believe, and what helps me live a better life.
Review by wcsdm3
16/06/2015
an excellent short survey of early christian church beginning from the day of pentecost, through the brutal persecutions to the fall of Rome & the triumph of Christianity