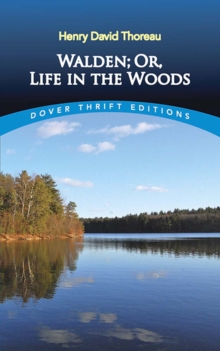 Walden: Or, Life in the Woods
Paperback
Information
Format: Paperback
Pages: 224 pages, Illustrations, unspecified
Publisher: Dover Publications Inc.
Publication Date: 12/04/1995
ISBN: 9780486284958
Other Formats
EPUB from £1.97
Paperback from £4.00
Hardback from £8.99
Paperback / softback from £12.99
Free Home Delivery
on all orders
Pick up orders
from local bookshops
Reviews
Showing 1 - 4 of 4 reviews.
Review by ErixWorx
16/06/2015
Makes me wanna go live in the woods like On the Road makes my feet get itchy to get movin'.
Review by heidilove
16/06/2015
To read this when one is a teenager is ideal. After that, it's pretty easy to start looking at the transcendentalists and saying "but if we all did that, what would get done?"
Review by bkinetic
16/06/2015
Thoreau chose to live deliberately and to observe life from a fresh perspective, as though no one had ever done so before. The result was a high quality of intimate thought, written for both the reader's challenge and enjoyment. In order to get the most from Walden, it is necessary to slow down and read deliberately. Thoreau carefully studied varied aspects of the natural world, reminding us how interesting everything is and how each moment of our lives can be full of discovery and wonder.
Review by Britt84
16/06/2015
I'm a bit ambivalent on this one. Though I really liked pieces and I think Thoreau has a great writing style, I did also find it rather lengthy at times. The descriptions of the environment of Walden pond are beautiful, but they can become a bit much, for instance when he writes several times, multiple pages about how clear the water in the pond is... Though the novel has been an important inspiration for some philosophers, and I appreciate it's importance and the novelty of Thoreau's ideas at the time the book was written, I have to say I don't find his ideas very convincing. I think Thoreau doesn't realise that he might live a 'primitive' life quite easily when he has a civilized world surrounding him, but that this would not be possible if everybody would follow the lifestyle he promotes. For instance, he hires oxen and a plough to plough his fields, he borrows tools, he gets his clothing from the village... If everybody would live like he does though, these things wouldn't be possible. Also, he feels that poor people should be happy to live a simple life, but he doesn't seem to understand that poverty means hardship and despair, and that a simple life isn't much fun when you're starving. Likewise, he doesn't take into account that some people have wives and children they need to provide for.Besides, Thoreau comes across as an incredibly arrogant and patronizing man, who seems to think he is the only person whose intellect is advanced enough to see the truth and to really understand the world. He just looks down upon everybody, and I found this really annoying and insulting.The copy I have also contained the essay 'Civil Disobedience', which leaves me with the same feeling. It's rather easy to boast of not paying your taxes, if you don't actually need to spend time in jail for it because your family pays up for you. And it's also rather easy to say you don't need the state and are therefore not going to pay, if you can benefit from the state by living in it, even without paying. I am presuming that Thoreau does appreciate having roads and railroads, a police force and firemen, and all other commodities the State provides; if everybody would act the way he does, then all these things would disappear, and I wonder if that really is what he wants...
Also in the Dover Thrift Editions series | View all