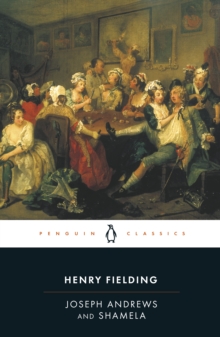 Joseph Andrews & Shamela
Paperback
Description
SHAMELA is a brilliant parody of Samuel Richardson's PAMELA, in which a virtuous servant girl long resists her master's advances and is eventually 'rewarded' with marriage.
Fielding's far more spirited and sexually honest heroine, by contrast, merely uses coyness and mock modesty as techniques to catch a rich husband.
JOSEPH ANDREWS, Fielding's first full-length novel, can also be seen as a response to Richardson, as the lascivious Lady Booby sets out to seduce her comically chaste servant Joseph, (himself in love with the much-put-upon Fanny Goodwill).
As in Tom Jones, Fielding takes a huge cast of characters out on the road and exposes them to many colourful and often hilarious adventures.
Other Formats
Paperback from £7.45
Hardback from £9.15
EPUB from £1.07
Paperback / softback from £7.99
Free Home Delivery
on all orders
Pick up orders
from local bookshops
Reviews
Showing 1 - 1 of 1 reviews.
Review by DieFledermaus
16/06/2015
Shamela is a short, funny novella with a literal parody of Richardson's Pamela while Joseph Andrews uses that book's theme - virtuous servant resisting aggressive employer - and builds a Tom Jones-esque road trip. Shamela purports to be the 'real' story of Pamela and Mr. B. Even her name reveals her deception. As told by Fielding, Shamela is the loose daughter or a rather vulgar mother. She and the equally amoral Mrs. Jarvis plot ways to trick Mr. B into a relationship with Shamela. She's definitely meant to be a golddigger, but this really only evens them out as Mr. B's behavior was abominable. Shamela fakes indignation and virtue, then reveals her greed after they're married. All around hilarity, if you've read Pamela. Fielding was addressing the Pamela backlash after the often exaggerated praise given to that novel.Joseph Andrews also takes its cue from Richardson - he is Pamela's brother and also a servant for the Booby family (the B's are given a name). Like Pamela, he's a valued employee and a good Christian, thanks to the teachings of Parson Abraham Adams. When Lady Booby is left a widow, she attempts to hit on Joseph and is rejected. Joseph gets fired and has to make his way back to the country alone. His refusal was meant to be comic, but I didn't think so. He was just trying to be a good Christian, a refreshing change from all the male characters who subscribe to the religion - just not that part. After Joseph leaves, the novel resembles part of Tom Jones where they were all traveling. He encounters Mr. Adams and his love, Fanny, then adventures ensue. Fanny is constantly sexually harassed and they meet assorted hypocrites, a rich man who makes extravagant promises then vanishes, a reformed rake living happily with his family and a crude squire with his train of freaks and cronies who also harass Fanny. When the trio finally returns home, more romantic and familial problems arise.The plot is entertaining, and Fielding's prose great as usual. A lot similar to the more complex Tom Jones, and also hints of Don Quixote, what with the multiple road discussions and meeting people who all tell their stories. Fielding is hard on people with excesses, hypocrites and those who are extremely affected. Not even Joseph and Adams are immune to doses of imperfections. Though Joseph tries to be a good Christian he always ends up in fights. Adams, for a parson, is extremely violent. He fights innkeepers, gets pig's blood poured on him, fights a hunter's dogs, beats up a rapist, and brawls with the squire's men. One scene displays his massive hypocrisy comically. Lecturing Fanny and Joseph on not loving too much - using the analogy of Abraham sacrificing Isaac - Adams suddenly believes his son is dead. His grief is extreme, crying, swearing, stomping and nothing Joseph says can comfort him. When he realizes his son is alive, his joy is also - as he would put it - immoderate. Even Fielding's best characters can have massive flaws. Overall - good parody and writing.