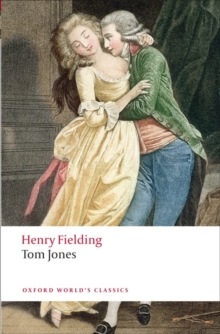 Description
Fielding's comic masterpiece of 1749 was immediately attacked as 'A motley history of bastardism, fornication, and adultery'.
Indeed, his populous novel overflows with a marvellous assortment of prudes, whores, libertines, bumpkins, misanthropes, hypocrites, scoundrels, virgins, and all too fallible humanitarians. At the centre of one of the most ingenious plots in English fiction stands a hero whose actions were, in 1749, as shocking as they are funny today.
Expelled from Mr Allworthy's country estate for his wild temper and sexual conquests, the good-hearted foundling Tom Jones loses his money, joins the army, and pursues his beloved across Britain to London, where he becomes a kept lover and confronts the possibility of incest.
Tom Jones is rightly regarded as Fielding's greatest work, and one of the first and most influential of English novels.
This carefully modernized edition is based on Fielding's emended fourth edition text and offers the most thorough notes, maps, and bibliography.
The introduction uses the latest scholarship to examine how Tom Jones exemplifies the role of the novel in the emerging eighteenth-century public sphere. ABOUT THE SERIES: For over 100 years Oxford World's Classics has made available the widest range of literature from around the globe.
Each affordable volume reflects Oxford's commitment to scholarship, providing the most accurate text plus a wealth of other valuable features, including expert introductions by leading authorities, helpful notes to clarify the text, up-to-date bibliographies for further study, and much more.
Information
Format: Paperback
Pages: 976 pages, 2 maps
Publisher: Oxford University Press
Publication Date: 14/08/2008
Category: Literary studies: c 1500 to c 1800
ISBN: 9780199536993
Other Formats
Paperback from £2.50
Hardback from £9.69
eAudiobook MP3 from £5.84
Paperback / softback from £15.85
Free Home Delivery
on all orders
Pick up orders
from local bookshops
Reviews
Showing 1 - 3 of 3 reviews.
Review by LisaMaria_C
16/06/2015
This is a very early novel, published in 1749, and it's telling in several ways this was written when the form was young. There are eccentric spellings, erratic capitalizations, and dialogue isn't set off in the convention we're used to, but has various speakers lumped into one paragraph. There are archaic formulations such as "says he" rather than "he said" and such archaic words as nay, doth, hath, yon, thou, thee, etc. Swear words such as "damn" are presented as "d--n." I felt the various parts of the narration--description, dialogue, thoughts, action--are much better balanced in later novels. And the omniscient narrator here, sometimes breaking the fourth wall into first person, is very, very intrusive, with long digressions, some chapter-length, on such subjects as the novel's form or the nature of love. Some parts to my tastes were far too preachy, but having just read <i>Robinson Crusoe</i> before this, that religiosity is just another feature of the era. This did make for rather tedious going at times, especially before I got acclimated to the style, but for the most part the plot and comic aspects kept me chugging along.It helps that Tom himself is much more likable than I expected from what I had heard of the novel--or even the description on the back of the book. I'd heard this was a picaresque tale with a hero that could be called a rake. But although he's no monk, I wouldn't describe Tom that way. He's neither rapist nor callous seducer. In fact, he's usually the seduced rather than the seducer. And he is young, after all; no older than twenty-one at the end of the novel. He says of himself: <i>Nor do I pretend to the Gift of Chastity... I have been guilty with Women, I own it; but I am not conscious that I have ever injured any--Nor would I, to procure Pleasure to myself, be knowingly the Cause of Misery to any human Being.</i>When Tom seemingly gets Molly Seagrim pregnant, he's quite willing to stand by her and marry her, even though she's poor. He'd been raised as a gentleman, and even though being base-born and not the heir doesn't mean he can look to marry the lady-of-the-manor next door, he could have done materially better than that. It's not until he finds out she's being unfaithful that he breaks things off with her. He shows himself generous and compassionate throughout. Tom's greatest fault indeed seems a naivete that allows others to take advantage of him. I felt more mixed about the female characters and especially Tom's love Sophia Western. She's a bit too blushing and apt to swoon--on the other hand, she doesn't let herself be rolled over but takes action to change her fate. It's obvious Fielding does have respect for women and although like the men, they might be fools, often his female characters are more intelligent and better educated than their male counterparts. Note the maid Jenny Jones, who is more learned than the schoolmaster who taught her. To be honest, it's the secondary comic characters that have the most vividness like the Sancho Panza like Mr Partridge or the affected Aunt Western and uncouth Squire Western.This was a surprisingly enjoyable novel on the whole, even if I wasn't as enchanted by it as I was by its comic descendents by Austen and Thackeray. I immediately felt the kinship to books such as <i>Sense and Sensibility</i> and <i>Vanity Fair</i> in the sparkling wit, the ironic tone, and wickedly sharp satire, even if Fielding is more genial than Thackeray, and more bawdy than Austen.
Review by charlie68
16/06/2015
I thought this book was a rip-roaring read, full of action, romance, humour and suspense, all set in the English countryside of eighteenth century England and London. Cant see anyone who would like this book.
Review by Lukerik
27/01/2016
A great book. It's very similar to his earlier novel Joseph Andrews, with like characters, plot and themes but here writ much larger and full of the same energy.
Also in the Oxford World's Classics series | View all