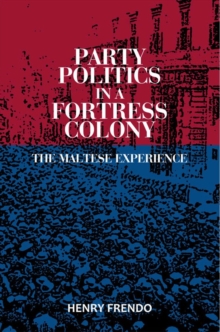 Party Politics in an Island Colony
Hardback
Description
Writing in History of European Ideas, Jan-Erik Lane from the University of Oslo noted that Frendo's `excellent study' showed how Maltese politics had always been `conflict ridden'. `And, amazingly, the cleavages have a strong cultural undercurrent making the notion of a nation-state in the tiny island of Malta far from self-evident.
What Frendo penetrates is a complex adversarial game where Malta repeatedly challenges imperial prerogatives, but at the same time there are sharp dissents between indigenous camps.' Party Politics is `a lesson in the embryology of national idenitity, from which modern Malta has emerged as a small, independent, democratic, European state in the central Medfiterranean, capable of acting as interlocutor between north and south, and east and west', noted Barry Collet (University of Melbourne) in The Australian Journal of Political Science.
Frendo's `scholarly and lucid analysis', he added, shows that by virtue of its experience Malta `has much to offer the internationl community in understanding nationalism, and in handling its consequences.' According to Frank Coppa in New York, writing for the Canadian Review of Studies in Nationalism, in the emergence of party rivalry and national sentiment in Malta`the historical and sociological dimensions complement the political one, as Frendo examines the interaction of society and politics.' Thus, Party Politics in a Fortress Colony `is of interest not only as one of political conflict within the former British Empire and the development of a two-party system, but it is also important as a study of Mediterranean life in general, and the formation of national character in Malta in particular.'`Here, at long last, was a book exploring the national reality with an absolute respect for the truth', observed Geoffrey Hull (University of Sydney) in The Sunday Times.`None of the well-known flaws of history writing in Malta - tribal or national chauvinism, cultural cringes and politically motivated parti pris - has a place in Party Politics.
It is so reassuring to discover in Henry Frendo the historian a truly European polymath who can foray intelligently and fruitfully into the related disciplines of literature, linguistics, anthropology, economics and sociology... a Maltese scholar with a sharp eye constantly on the rest of the world.'In Melita Historica Victor Mallia-Milanes from the University of Malta described it as`a book of such high calibre' with `a wealth of new insights' that could `serve as a model both for undergraduates and for fellow scholars'.
Information
Format: Hardback
Pages: 304 pages, Illustrated in monotone
Publisher: Midsea Books Ltd,Malta
Publication Date: 30/04/2013
Category: Politics & government
ISBN: 9789993274278
Free Home Delivery
on all orders
Pick up orders
from local bookshops