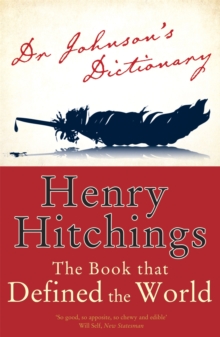 Dr. Johnson's Dictionary : The Book That Defined the World
Paperback
Description
By 1700, France and Italy already had dictionaries of their own, and it became a matter of national pride that England should rival them.
Dr Johnson rose to the challenge, turning over the garret of his London home to the creation of his Dictionary.
He imagined it would take three years. Eight years later it was finally published, full of idiosyncrasies, but complete nevertheless.
It would become the most important British cultural monument of the eighteenth century. This is the story of Johnson's attempt to define each and every word.
In wonderfully engaging chapters, Hitchings describes Johnson's adventure - his ambition and vision, his moments of despair, the mistakes he made along the way and his ultimate triumph.
Information
Format: Paperback
Pages: 288 pages, line drawings throughout
Publisher: Hodder & Stoughton General Division
Publication Date: 01/03/2006
Category: Biography: literary
ISBN: 9780719566325
Free Home Delivery
on all orders
Pick up orders
from local bookshops
Reviews
Showing 1 - 2 of 2 reviews.
Review by jcbrunner
16/06/2015
The Académie française spent 55 years to compile their dictionary. A century later, a single Englishman set out to produce an English dictionary. Henry Hitchins tale about Samuel Johnson's dictonary project is a fascinating portrait of the man, his craft and the era. The author uses Johnson's definitions as chapter headings and the book reads like an encyclopedia of strange little facts, such as that the entire circulation up to JOhnson's death amounted to only 6.000 copies or that "tarantula" is an "insect whose bite is only cured by music". As befits the subject, the number of nuggets of information in such a short book is overwhelming. Overall, an excellent general introduction to the topic only diminished by the fact that it is impossible to retain all the information provided and one has to look it up again (in a dictionary or encyclopedia) ...
Review by camelot2302
16/06/2015
We all know the Dr Johnson portrayed in the classic Blackadder episode and we all use his book, the Dictionary, every day. This book explores the life and background of Johnson, as well as his struggle to write the world's first English dictionary. A great subject for a book but in places, quite boring and unreadable.For readers who are linguists or lexicographers, you would probably give this book 5 stars, because a lot of the book examines the definitions that Johnson gave to words, its original Latin or Greek roots, arguments for and against Johnson's definitions and so on. For those of us who are not linguists or lexicographers, these pages come across as rather dry, pedantic, and downright boring. I wanted the book to be a straightforward history book / biography but instead we get a lesson in lingustics, word formation and quotes from literature.I was however amused and perhaps a little impressed by Hitchings including the Blackadder episode in the book and I liked parts of the book where he wrote clearly, fluently and concisely. I also liked how he named each book chapter after a word in Johnson's dictionary along with Johnson's definition. That was rather clever.This book is highly interesting and in places extremely fascinating. But the author has the tendency to ramble on and on in places which will make you start to flip pages. So only buy this if you are truly interested in the subject of linguistics, the history of the English language and a fan of biographies in general. Otherwise you may end up disappointed.