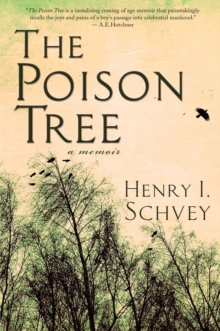 The Poison Tree : A Memoir
Paperback / softback
Description
Growing up in his father's looming shadow, Henry I.
Schvey wondered if he was doomed to repeat the past, doomed to make the same mistakes his father made.
Would he succumb to the drive for domination and transform his own world into one colored by fear, domestic violence, infidelity, and spousal abuse?
Schvey grew up in New York as his father rose to the pinnacle of success in the Reagan era of dog-eat-dog global finance, eventually becoming Vice-President and Chairman of the Bond Funds Division at Merrill Lynch.
But his father's success was paid for with the currency of intimidation and he wore it with the braggadocio of a man with an outsized ego who didn't care who he stepped on to get to the topaincluding his son.
The Poison Tree is a study of Schvey's relationship to his father, an illumination of the secret life of a man who was powerful, highly respected, and greatly feared, and a journeyaboth sad and tragicomicathat ultimately leads to forgiveness.
Information
Format: Paperback / softback
Pages: 222 pages
Publisher: Walrus Publishing, Incorporated
Publication Date: 06/09/2016
Category: Memoirs
ISBN: 9781940442167
Free Home Delivery
on all orders
Pick up orders
from local bookshops