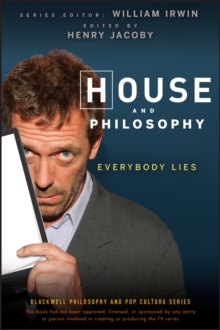 House and Philosophy : Everybody Lies
Paperback
Description
An unauthorized look at the philosophical issues raised by one of today's most popular television shows: House House is one of the top three television dramas on the air, pulling in more than 19 million viewers for each episode.
This latest book in the popular Blackwell Philosophy and Pop Culture series takes a deeper look at the characters and issues raised in this Emmy Award-winning medical drama, offering entertaining answers to the fascinating ethical questions viewers have about Dr. Gregory House and his medical team. Henry Jacoby (Goldsboro, NC) teaches philosophy at East Carolina University.
He has published articles primarily on the philosophy of mind and was a contributor to South Park and Philosophy (978-1-4051-6160-2).
Information
Format: Paperback
Pages: 272 pages
Publisher: John Wiley and Sons Ltd
Publication Date: 28/11/2008
Category: Television
ISBN: 9780470316603
Other Formats
EPUB from £12.87
PDF from £12.87
Free Home Delivery
on all orders
Pick up orders
from local bookshops
Reviews
Showing 1 - 4 of 4 reviews.
Review by poetontheone
16/06/2015
One would think a book on the philosophy of House MD could only go so far. It is just a TV show, right? Sure, but a show that presents probing ethical, moral, and philosophical questions; probably more so than any other currently in prime time. You have characters (The mesmerizing idiosyncrasies of the titular character alone could probably take up a whole book) and premises that are ripe for philosophical examination. The essay on House as an embodiment of Nietzsche's Ubermensch is of particular interest, as the thought had crossed my mind before, but to see it examined in such detail was quite a treat.
Review by TheCrow2
16/06/2015
Is House Zen? Is House moral or not? Can House feel love and if not what does it mean? So many important questions.... But seriously, this book provides a unique and interesting look into the one of the most popular series of today.
Review by LynnB
16/06/2015
House is my favourite TV show. Reading this book was a real treat. It enabled me to probe deeper into House's character and into the moral and ethical questions the show raises. House and Philosophy is a collection of essays by different authors, each exploring the TV show, and especially Dr. House himself, from a different philosophical perspective. You do not need to be an expert in philosopy to read this book, but it will help if you are familiar with the TV show as the examples are drawn from particular episodes.Now, usually, collections of essays are my least favourite type of reading. But, in this case, the authors obviously worked together very well and there is none of the repetition that often plagues this kind of book as each author feels the need to set out basic premises or background information. This is part of a pop culture and philosophy series, and I plan to look for more titles.
Review by westfargolibrary
16/06/2015
Students of philosophy and fans of House alike are sure to relish this analysis of the popular television series. While philosophy texts may leave readers cold, this book brings the work of Sartre, Nietzsche, and Socrates to life by applying them to America's crankiest doctor. Other books in this series include: Bob Dylan and Philosophy, Buffy the Vampire Slayer and Philosophy, Johnny Cash and Philosophy, The Lord of the Rings and Philosophy, and the Matrix and Philosophy.
Also in the The Blackwell Philosophy and Pop Culture Series series | View all