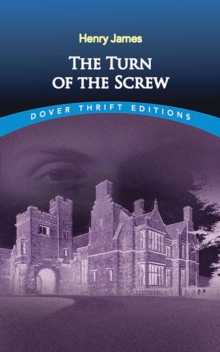 The Turn of the Screw
Paperback
Information
Format: Paperback
Pages: 96 pages
Publisher: Dover Publications Inc.
Publication Date: 01/01/1991
Category: Classic fiction (pre c 1945)
ISBN: 9780486266848
Other Formats
Paperback from £2.50
CD-Audio from £14.79
EPUB from £0.99
Free Home Delivery
on all orders
Pick up orders
from local bookshops
Reviews
Showing 1 - 5 of 9 reviews.
Previous | Next
Review by saskreader
16/06/2015
I know this is supposed to be a classic psychological gothic-type mystery, but I just didn't find it very effective. Yes, there is a big scary secret revealed, but from my point of view (as a reader and movie-watcher in the 21st century), it just wasn't as unnerving as it was meant to be. Perhaps it should be viewed as the predecessor of all the psychological thrillers around today.
Review by timsreadinglist
16/06/2015
Against my better judgment, I read this, my second Henry James story. So tedious! The exquisite sensitivities of his protagonist are absurd and prevent her from achieving a simple solution on every page. The protagonist and James' prose were exasperating enough to overwhelm the psychological tension and creepiness that this story is supposed to exhibit so well. William remains my favorite of the James brothers, for sure. I'll do my best to avoid Henry in the future.
Review by zinkel101
16/06/2015
Turn of the Screw is the classic story of the unreliable narrator. A governess is given charge of two children on a rather isolated estate in England. She has taken the job because it was offered by a man she has romanticized, a man she wants to impress, a man who is conspicuously absent at the estate. The two precocious children are mysterious in their beauty, their behavior, and their background. They have a bond with each other, as well as with one staffmember that borders on collusion. They have secrets, revealed in bits about their previous governess and a licentious groundskeeper who had inappropriate relationships, implied in a Victorian manner. The two predecessors, though dead, figure prominently in the story as the heroine must protect the children from their ghosts. James's method of relating the story through a third generation narrator brings into question whether the ghosts are "real" or the illusion of the governess, who, throughout the story, is defending herself. The opening chapter may be overlooked for its importance as it only introduces the thrilling tale, but much has been speculated on James's intent in using a narrator who is the friend of a man who once loved the governess, who may edit the story to defend him who may have edited the story that came from the governess herself. Love may make you do crazy things, which is why the governess's great threat is questionable in the first place. The story may be my favorite of James's works because it is different from his longer novels. He uses the unreliable narrator, in a style like Poe's, and implied psychology, leaving ambiguity for the reader to interpret.
Review by kronos999
16/06/2015
Very interesting gothic ghost (maybe?) story. Wonderful unreliable narrator who may be mad and imagining the whole thing. Or maybe the ghosts are real. Or perhaps she is mad, but isn't imagining it at all.
Review by laytonwoman3rd
16/06/2015
OK, if they made you re-instate your English Major status every few years by reading something revered yet wretched, this one would qualify me to keep my badge. My husband was on a gothic/horror/ghost story kick, and as an old English Major himself, he decided he ought to read this "masterpiece of the supernatural". He struggled through the 87 pages of the Dover Thrift Edition, moaning like a lost soul himself, and then suggested I read it and tell him what the hell he was missing. I'd already had about enough of it, from listening to him grouse, but I agreed to give it a go. James' prose is overwrought; he could have dropped a handful of words from every page and they'd not have been missed. Short as it is, I heartily wish an editor had tossed the manuscript back to him with the terse directive, "Again. Half as long." I don't like his style, he didn't scare me a bit, and I have no idea what to make of the ending. So why do I have this ridiculous desire to see a good film version of the story?
Also in the Dover Thrift Editions series | View all