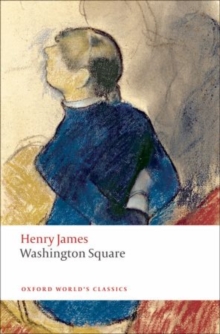 Washington Square
Paperback
Description
'She will do as I have bidden her.' Catherine Sloper is heiress to a fortune and the social eminence associated with Washington Square. She attracts the attention of a good-looking but penniless young man, Morris Townsend. His suit is encouraged by Catherine's romantically-minded aunt, Mrs Penniman, but her father, a clever physician, is convinced that his motives are merely mercenary. He will not consent to the marriage, regardless of the cost to his daughter. Out of this classic confrontation Henry James fashioned one of his most deftly searching shorter fictions. First published in 1880 but set some forty years earlier in a pre-Civil War New York, the novel reflects ironically on the restricted world in which its heroine is marooned, seating herself at its close 'for life, as it were'.
In his introduction Adrian Poole reflects on the book's gestation and influences, the significance of place, and the insight with which the four prinicipal players are drawn.
The edition includes an account of the real-life tale that sparked James's imaginative genius. ABOUT THE SERIES: For over 100 years Oxford World's Classics has made available the widest range of literature from around the globe.
Each affordable volume reflects Oxford's commitment to scholarship, providing the most accurate text plus a wealth of other valuable features, including expert introductions by leading authorities, helpful notes to clarify the text, up-to-date bibliographies for further study, and much more.
Information
Format: Paperback
Pages: 224 pages
Publisher: Oxford University Press
Publication Date: 05/11/2010
Category: Classic fiction (pre c 1945)
ISBN: 9780199559190
Other Formats
Paperback from £2.50
Hardback from £8.35
EPUB from £1.29
eAudiobook MP3 from £7.20
PDF from £1.29
Mixed media product from £11.64
Paperback / softback from £15.85
Free Home Delivery
on all orders
Pick up orders
from local bookshops
Reviews
Showing 1 - 5 of 5 reviews.
Review by Donna828
16/06/2015
Is it better to be clever or good is the question that lies at the heart of this short novel. The question is raised about the dull but dutiful daughter, Catherine, by her father, Dr. Austin Sloper. Dr. Sloper has had two major losses in his life with the deaths of a son and his beloved wife which may have contributed to his barely disguised disdain for his infant daughter. Catherine's physical needs are met by her father with the help of meddlesome Aunt Lavinia, but Catherine is a very sheltered young lady with little self-esteem when the charming and handsome Morris Townsend joins the cast of characters and the struggle to dominate Catherine begins.Washington Square is a short book and one of the most accessible written by Henry James. It is worth the few hours of time it takes to eavesdrop on society in New York City before the time of the Civil War. Life was slower back then and women largely depended on men to live a fulfilled life. It is gratifying to see how Catherine, despite being thought common by her father, used her common sense and growing independence to control her own destiny.
Review by Clara53
16/06/2015
Henry James has a talent of getting to the essence of not only typical personages, but quite surprising and unexpected characters. Page by page he slowly unfolds their true nature. His narrative runs with such fluidity and is worded so exquisitely that upon reading it you get this quiet kind of satisfaction, of gaining something very beautiful and worth knowing. That's what I felt. At first the plot might not seem anything out of the ordinary - an idle dashing young man calculating a marriage to a wealthy, yet not apparently popular young woman. But it's much more than that, as we discover...
Review by Dorritt
16/06/2015
This is a surprisingly ambiguous story with a deceptively simple plot. Set in New York in the early 1900s, the story tells the tale of Catherine Sloper, the rather plain, rather dull daughter of a wealthy, domineering father who becomes the target of a charming gold-digger of a suitor. Will she marry him over the objections of her father? See how simple that is? But this is Henry James, after all, so the plot extends – like the proverbial iceberg - several layers below the surface.Catherine isn't a terribly sympathetic heroine – her dullness, her lack of intelligence, and her refusal to stick up for herself will almost certainly grate with self-actualized women of the 20th century. However, she's much more sympathetic than the uniformly unpleasant cast of characters with whom she interacts in this tale, all of whom see her as little more than a tool to be manipulated for their own purposes. Her aunt uses her as the means by which to fulfill her own melodramatic fantasies of secret trysts and the tragedy of doomed love. Her lover sees her as the path to ready fortune and a life of indolence and ease. Even her own father demonstrates heartbreakingly few signs of genuine affection, viewing his daughter alternatively as an interesting scientific experiment ("how will she react if I apply *this* stressor?") and as a ready affirmation of his own cleverness. The fundamental principle of sarcasm is making the wielder feel superior by belittling another, and in this tale Dr. Sloper wields sarcasm with the same brutal precision he brings to his surgeries.This is no pat morality tale, however, in which the wicked are punished and virtue is rewarded. Nor is it a thematically simplistic novel, characterized by a resolution in which the main characters change or grow in wisdom. The world isn't as simple as that, and James does us the favor of positing that we know this as well as he does – and that, therefore, we can cope with an ending that is both morally and thematically ambiguous. The novel raises many provoking questions, some of which include: to what extent is a parent justified in preventing their children from making their own mistakes? At what point does principled defiance become merely obstinacy … or, worse, cruelty? To what extent do we (knowingly and unknowingly) justify meddling in the affairs of others to achieve our own ends? Can harm and humiliation caused by the betrayal of others be mitigated by a steadfast refusal never to betray oneself? And is this steadfast determination never to betray one's own principles an acceptable substitute for living a life devoid of happiness? In other words, despite the relative simplicity of plot, this definitely isn't the kind of book you take with you to the beach. However, the novel's moral complexity makes it a worthy read and probably great fodder for book club discussions.
Review by savaran
16/06/2015
This is a love story.The cool man and the very shy women are main characters. They fall in love.But,her father against it. I think this story is very typical,so Iwas not surprised the end.I could imagine the last easily.I couldn't understandher feeling.
Review by Kasthu
16/06/2015
Published in 1880, Washington Square looks back to an earlier period of New York City's history, when upper-crust society lived at or adjacent to Washington Square, before society eventually migrated uptown. Set in the first half of the nineteenth century and based on a story that was once told to Henry James, this novel tells the story of Catherine Sloper the daughter of a respected physician and the heiress to a fortune of $10,000. One evening she meets Morris Townsend, a young man of whom Dr. Sloper is immediately suspicious, for wanting to marry Catherine for her money. Although Dr. Sloper forbids his daughter to marry or even see Mr. Townsend, as the risk of her losing her fortune, she does so anyways, with the help of her aunt, Mrs. Penniman.Washington Square in the early nineteenth century wasn't so much a location as it was an address, a way of life. The heyday of Washington Square was in the 1840s, although many people were starting to move further uptown. Henry James's perspective is from the later part of that century, when New York's high society had already moved northwards in Manhattan, so this novel highlights the differences that 50 years or so have wrought. There are often comparisons between the way things are now (in the 1880s) and the way things were before the advent of the Civil War. The house in Washington Square represents a comfortable, consistent way of life valued by nearly everyone in the novel but Catherine, who seeks a way out through marriage.Washington Square is based upon a story that was told to Henry James by the actress Fanny Kemble. James is rather cruel to Catherine; she is described as a plain, unintelligent girl. We are never given a clear picture of her thought process. We get much more from the tyrannical Dr. Sloper, a man who can deliver "a terribly incisive look—a look so like a surgeon's lancet." He is never afraid to say exactly what he thinks, which makes him an easier character to understand and empathize with. Henry James doesn't describe his characters or their actions in simple adjectives; rather, he uses similes and analogies to describe how his characters think and feel.Morris Townsend is harder to understand; seen though the eyes of Catherine, our idea of him is hardly objective. We don't get any kind of inner monologue from him at first, so it's hard to judge him exactly. But the more the book goes on and the more we are allowed to view his thoughts, the more we start to see Townsend from Dr. Sloper's point of view. It's very interesting to see how Henry James reveals nuances of character the way he does. In all, all of the characters are portrayed very well.
Also in the Oxford World's Classics series | View all