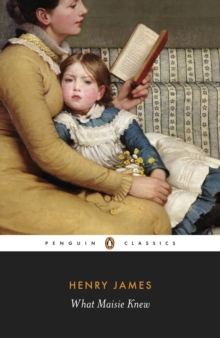 What Maisie Knew
Paperback
Description
What Maisie Knew is Henry James's damning portrait of adultery, jealousy and possession on the decadent fringe of English upper-class society.
This Penguin Classics edition is edited with an introduction and notes by Christopher Ricks.After her parents' bitter divorce, young Maisie Farange finds herself turned into a 'little feathered shuttlecock' to be swatted back and forth by her selfish mother, Ida, and her vain father, Beale, who value her only as a means of provoking one another.
When both take lovers and remarry, Maisie - solitary, observant and wise beyond her years - is drawn into an entangled adult world of intrigue and sexual betrayal, until she is at last able to cooperate in choosing her own future.
As time conquers innocence, Henry James masterfully portrays Maisie's consciousness developing from simple childlike 'wonder' to a rich, morally-scrupulous adult mind.This edition of What Maisie Knew includes a chronology, suggested further reading, three contemporary reviews, Henry James's own commentaries on the work, and an introduction that examines how children figured in his predecessors' novels, and how war is waged between the sexes in What Maisie Knew.
Henry James (1843-1916) son of a prominent theologian, and brother to the philosopher William James, was one of the most celebrated novelists of the fin-de-siecle.
In addition to many short stories, plays, books of criticism, biography and autobiography, and much travel writing, he wrote some twenty novels.His novella 'Daisy Miller' (1878) established him as a literary figure on both sides of the Atlantic, and his other novels in Penguin Classics include Washington Square (1880), The Portrait of a Lady (1881), The Awkward Age (1899), The Wings of the Dove (1902), The Ambassadors (1903) and The Golden Bowl (1904)If you enjoyed What Maisie Knew, you might like Virginia Woolf's Mrs Dalloway, also available in Penguin Classics.'Embodies everything that James excelled at in fiction'Paul Theroux
Information
Format: Paperback
Pages: 352 pages
Publisher: Penguin Books Ltd
Publication Date: 26/08/2010
Category: Classic fiction (pre c 1945)
ISBN: 9780141441375
Other Formats
Paperback from £5.59
EPUB from £1.07
Hardback from £19.95
Paperback / softback from £16.55
eAudiobook MP3 from £17.60
Free Home Delivery
on all orders
Pick up orders
from local bookshops
Reviews
Showing 1 - 2 of 2 reviews.
Review by ChristaJLS
16/06/2015
At a young age Maisie's parents decide to tell her they're getting a divorce. From that point on, life as she knows it will never be the same. She is traded back and forth among them and forced to put up with their constant bickering. So despicable are her parents they even use this poor child as a messenger to pass along insults. Fortunately, Maisie finds allies in her parents new spouses, Claude and Mrs. Beale and her governess Mrs.Wix, though their own motives may not be so clear. Throughout it all Maisie is simply trying to find her place in an indifferent and cruel adult world.This book, though short, seemed to drag on forever! It is so verbose, disengaging and talk about run on sentences! It would often take me a couple re-reads through a sentence to figure out exactly what was going on. Even once I figured out what was going on I found the book couldn't hold my attention. Upon reflection I can determine this is only because I did not care about a single character in this book. I felt bad for Maisie because her parents are absolutely despicable and their spouses may love Maisie but there so shallow and self absorbed you have to wonder if they're really any better. Even Maisie herself wasn't such a great character. I found her annoying the way she automatically fell in love with everyone she met. She's supposed to be innocent but even innocent characters tend to learn something and by the end of the book I found myself wondering if she knew anything at all.It is clear that James has an amazing command of the English language. But this particular book is a little disorientating and not one I found myself getting lost in. It does put forth some interesting ideas and is a disturbing look at how horrible and selfish adults can be. In actuality the book may actually have been enjoyable if it just wasn't so overwritten.
Review by jmoncton
16/06/2015
Divorces are painful, especially when there are children involved. But divorces become extremely ugly when parents use the child as a weapon to hurt their former spouse. Maisie is a young girl when her parents Ida and Beale Farrange split up. Both parents are self-absorbed narcissists and are too selfish to have the commitment to stay in a relationship, let alone have the skills or the desire to be a good parent. Both parents don't want to release their claim on Maisie as part of a power struggle with their partner, but since neither wants to really take care of her, they each farm her out to governesses. And here is where the plot becomes complicated. Mrs. Farrange hires a pretty young governess who falls in love and eventually marries Maisie's father. Maisie's mother also remarries – a wonderful and caring Sir Claude, but both Maisie's mother and father lack the fidelity or desire to stay in any lasting relationship. And with a plot twist that you might expect from a Hollywood blockbuster, Maisie's step parents – you guessed it – fall for each other. In the center of all of this romantic entanglement is poor Maisie. From the title of this book, <i>What Maisie Knew</i>, I was dreading some awful secret that the young girl would discover. But sadly, it seems like the lessons that Maisie learns are to not trust the adults in her life and that no relationship ever lasts. Good story. One comment about the audio narration. The book I listened to was performed by Maureen O'Brian. Her voices were good for most of the characters, except for Maisie. In the story, Maisie is a young girl – maybe in the range of 5 to 10 years old. She gives her a very high squeaky voice – almost what you would expect from a pixie or fairy. I found it slightly disconcerting and a distraction from the overall story.