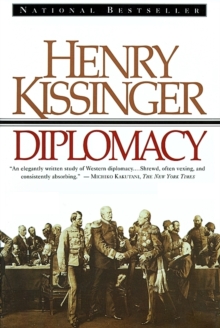 Description
'Kissinger's absorbing book tackles head-on some of the toughest questions of our time ...Its pages sparkle with insight' Simon Schama in the NEW YORKER Spanning more than three centuries, from Cardinal Richelieu to the fragility of the 'New World Order', DIPLOMACY is the now-classic history of international relations by the former Secretary of State and winner of the Nobel Peace Prize.
Kissinger's intimate portraits of world leaders, many from personal experience, provide the reader with a unique insight into what really goes on -- and why -- behind the closed doors of the corridors of power. 'Budding diplomats and politicians should read it as avidly as their predecessors read Machiavelli' Douglas Hurd in the DAILY TELEGRAPH 'If you want to pay someone a compliment, give them Henry Kissinger's DIPLOMACY ...It is certainly one of the best, and most enjoyable [books] on international relations past and present ...DIPLOMACY should be read for the sheer historical sweep, the characterisations, the story-telling, the ability to look at large parts of the world as a whole' Malcolm Rutherford in the FINANCIAL TIMES
Information
Format: Paperback
Pages: 912 pages, illustrations facsim., maps
Publisher: Simon & Schuster
Publication Date: 09/11/1994
Category: Diplomacy
ISBN: 9780671510992
Other Formats
Paperback from £11.85
EPUB from £6.99
Free Home Delivery
on all orders
Pick up orders
from local bookshops
Reviews
Showing 1 - 5 of 7 reviews.
Previous | Next
Review by Scaryguy
16/06/2015
An interesting reference. An even better cure for insomnia.
Review by fdhondt
16/06/2015
Masterpiece. Truly impressive, though of course biased by Kissingers personal views. Should be on the pillow of every statesman. A huge argument for the compulsory teaching of International Relations History to anyone concerned with the "res publica".
Review by Angelic55blonde
16/06/2015
This is a hefty book so it took me a long time to read but Henry Kissinger was extremely thorough in his research and details. There is a large amount of information in this book, and it covers diplomacy worldwide, not just American diplomacy, which I liked. It could get a little dry from time to time but I'm glad I waded through the book.If you are interested in international relations and diplomacy, then this would be an excellent book for you. Just be prepared for it to take a long time to get through.
Review by fierolucent
16/06/2015
I will not say which highly placed government official called this book a sleeper, and unless you're an international relations freak, this is exactly the book you need guaranteed to do in a few minutes what a nice cup of tea (and a sleeping pill) before bed will. That is, if you like to sleep with this tome on your nightstand.But since I am an international relations freak, I found this book extremely informative with enough subject matter for one of those um, dinner conversations where you're too polite to throw cutleries at each other when you don't agree on things but deliver your opinions with knife precision anyway. And should there be someone unfortunate enough to enter my bedroom unannounced, this book with its dimension and weight also makes for good self defense material. ´nuff said.
Review by zen_923
16/06/2015
A very informative and well-researched book, Diplomacy can get tedious at times. This is why I only recommend this to those who are really interested in the topic. Otherwise, you might be tempted to skip chapters just to finish reading this book