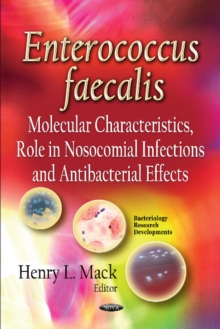 Enterococcus faecalis : Molecular Characteristics, Role in Nosocomial Infections & Antibacterial Effects
Hardback
Description
Enterococcus faecalis is a gram-positive, coccus shaped, lactic acid bacterium, with demonstrated ubiquity across multiple anatomical sites.
Enterococcus faecalis isolates have been isolated from clinical samples as the etiological agent in patients with overt infections, and from body sites previously thought to be sterile but absent of signs and symptoms of infection.
E. faecalis is implicated in both human health and disease, recognised as a commensal, a probiotic and an opportunistic multiply resistant pathogen.
E faecalis has emerged as a key pathogen in nosocomial infections.
Enterococcus faecalis is a commensal bacterium inhabiting the gastro-intestinal tract of humans.
Interestingly, although it is not clear whether E faecalis is part of the oral cavity microbiome, it is frequently recovered from root canal infections.
Specifically, it is the major pathogen found in persistent infections associated with root canal treatment failure.
Moreover, E faecalis is one of the leading multidrug resistant nosocomial pathogens, causing infective endocarditis, and participating in urinary tract, wound, and device- device-related infections.
This book discusses the molecular characteristics, its role in nonsocomial infections and the antibacterial effects of Enterococcus faecalis.
It begins by discussing the virulence factors of enterococcus faecalis and concludes with E faecalis in dental infections.
Information
Format: Hardback
Pages: 202 pages
Publisher: Nova Science Publishers Inc
Publication Date: 05/08/2014
Category: Bacteriology (non-medical)
ISBN: 9781633210493
Free Home Delivery
on all orders
Pick up orders
from local bookshops