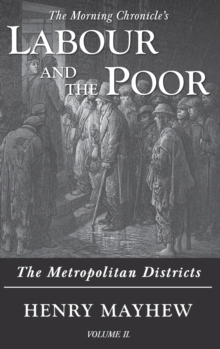 Labour and the Poor Volume II : The Metropolitan Districts
Hardback
Description
Real life London in 1850. A journey through the back streets and into the lives of the people in early Victorian London.
Henry Mayhew, the pioneering social investigative journalist, takes us around the capital and reveals a hidden life-the real Dickens' London. He ventures into places where only the very poorest are forced to tread, interviews the people encountered and publishes their words.
In this volume we return to the docks of London and encounter the whippers, backers, and heavers at their gruelling labour. We enter an asylum for the poor as Henry Mayhew interviews a motley collection of threadbare vagrants, tramps, and beggars. The most numerous of the artisans, the boot and shoe makers, tell of frauds and "sweating" undermining their trade.
"Labour and the Poor", the acclaimed investigation into the poor of England and Wales, was undertaken from 1849 to 1851 by The Morning Chronicle, a leading London-based newspaper of the period. This remarkable series will take you into the cities, towns, and villages, into the mills, the factories, and the mines, hearing from the people themselves about their lives, their occupations, and their struggles for survival amidst the overwhelming poverty of the period.
Brought to you in its entirety for the very first time, and including the Letters to the Editor, this extraordinary and unsurpassed investigation will show what life was really like in the mid-19th century-on the ground reporting at its very best.
Information
Format:Hardback
Pages:520 pages, 6 black and white illustrations
Publisher:Ditto Books
Publication Date:18/09/2020
Category:
ISBN:9781913515027
Other Formats
Paperback / softback from £17.85
Also in the The Morning Chronicle's Labour and the Poor series | View all