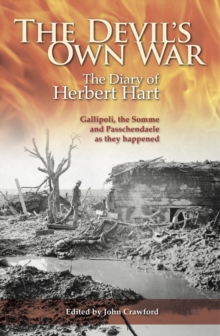 The Devil's Own War : The Diary of Herbert Hart: Gallipoli, the Somme and Passchendaele as they happened
Paperback / softback
Description
The first (hardback) edition of this book sold out before its official publication date, and public demand has been so great that a paperback edition will now be published.
Brigadier-General Herbert Hart landed at Gallipoli on 26 April 1915, commanded the Wellington Battalion during the closing stages of that campaign, then served as a battalion and brigade commander on the Western Front between 1916 and 1918.
Throughout the war he kept a diary, in which he recorded his experiences in the great battles on Gallipoli, the Somme and Passchendaele.
Hart's diary is now widely regarded as one of the most important personal sources relating to the New Zealand Expeditionary Force.
Exceptionally well written, it includes gripping descriptions of both combat and life behind the front line and on leave in France and United Kingdom.
While Hart can appear quite detached at times, he is also a very human observer of the events around him, understanding the plight of his men, finding humour in the most unlikely situations and noticing unexpected details at moments of high tension.
As a first-hand account of life in the firestorm of World War One, The Devil's Own War is hard to beat.
Information
Format: Paperback / softback
Pages: 344 pages, 7 Maps; 8 Plates, black and white
Publisher: Exisle Publishing
Publication Date: 01/09/2009
ISBN: 9780908988228