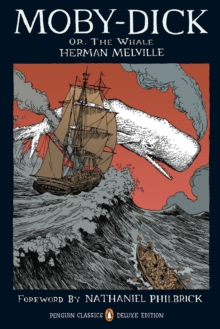 Moby-Dick : Or, the Whale
Paperback
Description
In part, Moby-Dick is the story of an eerily compelling madman pursuing an unholy war against a creature as vast and dangerous and unknowable as the sea itself.
But more than just a novel of adventure, more than an encyclopaedia of whaling lore and legend, the book can be seen as part of its author's lifelong meditation on America.
Written with wonderfully redemptive humour, Moby-Dick is also a profound enquiry into character, faith and the nature of perception.
Information
Format: Paperback
Pages: 672 pages
Publisher: Penguin Books Ltd
Publication Date: 01/10/2009
Category: Classic fiction (pre c 1945)
ISBN: 9780143105954
Other Formats
Paperback from £7.09
Hardback from £12.89
EPUB from £7.91
Free Home Delivery
on all orders
Pick up orders
from local bookshops
Reviews
Showing 1 - 3 of 3 reviews.
Review by Eyejaybee
16/06/2015
A marvellous story that encapsulates the whole whaling industry, and relates the vengeful hunting of a malign white sperm whale by Captain Ahab, who had lost a leg to the creature in their previous encounter.Told through the eyes of Ishmael, a would-be whaler, who signs up to sail on the Pequod along with his formerly-cannibalistic friend Queequeg.It also offers fascinating insights into life in Nantucket, the tiny island community on America's Atlantic coast sustained almost exclusively by the whaling industry.
Review by LisaMaria_C
16/06/2015
Moby Dick is a deeply weird book, not what I expected from a 19th Century classic, and my rating expresses my mixture of admiration, boredom and outright irritation at Melville's wretched self-indulgence and excesses. I know that's nigh to sacrilegious. Introductions to this book call it "the greatest American novel ever written" and the "greatest sea book ever written." I certainly recommend trying it on the grounds of cultural literacy and if you have any interest in modern literature or the art of writing. But as presumptuous as it might be to say so, I could wish Melville had a much more ruthless editor. He fronts the book with an extensive etymology and 78 "extracts" (ie quotations) on the whale from Genesis to Darwin where a selection of a few would more than do. Of the 135 chapters, over two dozen are essays on different aspects of whales and whaling that have nothing to do with the story of the White Whale Moby Dick, the Nantucket whaling ship Pequod or its obsessed Captain Ahab or the purported narrator Ismael. One in five chapters are completely taken up with describing the different species of whales, historical encounters, whaling equipment and methods, whaling products, every anatomical part you could imagine (every part, one chapter is devoted to describing the whale's penis alone), myth, maritime law--and three whole chapters devoted to whales in art. Mine eyes they glazeth over. Melville, instead of studding the book with bits on the theme, or letting it speak for itself, spends an entire chapter on "The Whiteness of the Whale." All to my mind absolutely skipable, skimable and yawn-inducing except to academics and literary critics. That's not all. This purports to be a first person narrative by Ismael. The novel famously starts, "Call me Ismael" as if the novel is spoken by Ismael into the reader's ear. Yet about a third way through Ismael disappears as a character--no matter how many "I" statements may still be embedded throughout--and becomes in effect the omniscient narrator, telling us of thoughts, acts and speeches of others he had no way of knowing. A character is named early on, Bulkington, in a way that should signal his importance to the story, then dropped without explanation. Much of Moby Dick reads like a sloppy first draft. Then there's the just plain trippy. As mentioned above, loads of chapters that are essays. Others that are prose poems or what seem to be displaced random snatches of Huh??? (see, Chapter 122) and more than one chapter in the midst of the novel that are in stage play format (See,, in particular, "Midnight, Forecastle.") Characters--especially Captain Ahab--speak not like 19th Century Americans, but Elizabethians spouting blank verse complete with "Hark!" and "Methinks." One of the introductions I read called Moby Dick "proto-post-modern," and it does at times read more like something James Joyce or Faulkner or their many followers like DeLillo might have written (not a compliment coming from me) than Hawthorne or Dickens. So why don't I give this a half-star and be done with it? Well, some of Ahab's Shakespearean language is striking and resonant. Hey, it's where Star Trek's Khan cribbed his best lines! ("I'll chase him round Good Hope, and round the horn, and round the norway maelstrom, and round perdition's flames before I give him up." "He tasks me." "To the last, I grapple with thee; from hell's heart, I stab at thee; for hate's sake, I spit my last breath at thee.") There are gorgeous descriptions of the sea--of sunlight against the horizon like a finger, of the wake churning the sea like butter and so much prose with music in it. There's biting social commentary, irreverent observations about religion, irony, glints of humor (especially regarding the Polynesian Harpooner Queequeg, the co-owners of the ship, and Second Mate Stubb.) A lot of the characters are memorable, beyond just Ahab. Pip, the Carpenter and the Blacksmith, the three officers, Starbuck, Stubb and Flask. Cut away all the digressions, there's a epic mythic story at the core--if you can keep yourself awake.
Review by KidSisyphus
16/06/2015
Everyone eventually comes across the White Whale in one form or another. The trick is to not keep its attention for too long.<br/><br/>*****<br/><br/>Avast! Dost thee have a five spot thou can see thyself parting ways with?<br/><br/>No?<br/><br/>Jibberjab up the wigwam! Cuisinart the poopdeck!<br/><br/>What's that ye say? Thou canst not make heads nor tails of what I sayeth? <br/><br/>Here then. Let me take this pipe outta my mouth and stop menacing you with this harpoon. Better? Good.<br/><br/>Huh? No, no! Ho-ho! I wasn't asking for money! I was asking if you've seen the White Whale! Ha-ha!<br/><br/>No? <br/><br/>Okay, okay…well then, do you know who famously wrote, "The world seems logical to us because we have made it logical"?<br/><br/>Here's a hint: his bushy visage and even bushier philosophies have launched a thousand heavy metal bands. <br/><br/>Take your time. I'll just hone the point of this harpoon…<br/><br/>No again? No biggie, I'm happy to report that it is none other than one Friedrich Nietzsche.<br/><br/>But we know what became of that crusty old phrenologist, don't we? He went nuts. Why? Because he grew up in a house full of women, of course. But guess what? Turns out that hanging out with a bunch of guys doesn't work out too well, either. <br/><br/>Especially when they're so monomaniacal about Dick.<br/><br/>Moby-Dick. <br/><br/>You know? The White Whale?<br/><br/>Of course that's what I meant. What else did you --- ? You what? <br/><br/>Put away all that sophomoric homoerotic stuff, won't you? Let us turn to the thrust of the plot. The long and hard plot, whose veiny, undulating, ruminative tributaries all lead back to the all-consuming desire for globulous sperm…aceti.<br/><br/>I know what you're thinking, "Who the hell does this guy think he is, reviewing a canonical work like Moby-Dick? What aplomb!" <br/><br/>Aplomb? Really?<br/><br/>Who says <I>aplomb</I> any more? Just for that, I'm gonna tell you what happens -- EVERYBODY DIES AT THE END! <br/><br/>Jerk.<br/><br/>Yeah, yeah. You're right. I should put the harpoon back down. Sorry. I just get worked up sometimes. <br/><br/>Now. This is the fourth time I've read this weighty tome, and I ain't gonna lie -- I may not be able to bend spoons with my mind, but I'm not as scared of clowns as I used to be.<br/><br/>For reals.<br/><br/>You see, Melville gets me. I'm a little outta my depth arguing epistemology, but a guy who challenges the conceit that any sort of absolute truth can be apprehended already has my sympathies. Then when he opens a book of exhaustive -- and exhausting -- prose, itself like so much chanting by a humble pilgrim before his incomprehensible and terrible god, with a casual, "Call me Ishmael." Well. One thinks that he would be just as comfortable with the moniker The Dude. <br/><br/>What's in a name, man? It's all relative.<br/><br/>Fucking hippie, right?<br/><br/>Right!<br/><br/>And guess what? The hippie's the only one to make it out alive! (So I lied, everybody doesn't die.) There's a mad man at the helm of this rapacious project we call Life and you've got to be a bit of a hippie yourself if you plan on enduring it. Yet, there's nothing you can do about your participation in said project -- where would you go? Jump in the ocean? <br/><br/>HERE BE SHARKS. <br/><br/>And what's worse, what else would a guy like our mad man do than captain a doomsday machine? It's impossible for the mad man to do anything else. What? Ahab as gourmand? <br/><br/><i>"Damn thy eyes for a Cossack but if this not be the most succulent baked halibut in ten counties!"</i><br/><br/>Maybe it's a sort of inertia: certain professions attract certain types. Just look at Wall Street. Or the latest amateur video of a cop beating some innocent senseless. Or those child-molesting priest assholes.<br/><br/>Or clowns.<br/><br/>We're doomed! <br/><br/>Still, if you can channel your inner hippie, you might just be okay. "Oh man! admire and model thyself after the whale! Do thou, too, live in this world without being part of it." Not bad advice. The whale's lack of humanly reason isn't just dumb animalism, but is really a sort of supra-reason. The whale, like our hippie, is a wanderer that is never going to complete a journey. Welcome incompleteness! It'll ensure that you survive those brushes with the White Whale. Surrender to the idea of "Doubts of all things earthly, and intuitions of some things heavenly; this combination makes neither believer nor infidel."<br/><br/>To mistake that mossy crust of reason gathered on the back of Schopenhaurean WILL as the conclusion of the Self instead of mere technique available to the same is to invite what D.H. Lawrence calls the "mystic dream-horror" of Moby-Dick.<br/><br/>Come again? You can't wait for Hollywood to suck the last bit of marrow from America's bones with something directed by Guy Ritchie and starring Bruce Willis as Ahab? Keanu Reeves as Ishmael, George Lopez as Queequeg, and Vin Diesel as Starbuck? With the whale rendered in vainglorious CGI?<br/><br/>Me? Oh, nothing. Just setting the pipe so, hefting my harpoon, and --- <br/><br/><b><I>THAR SHE BLOWS!</I></b>