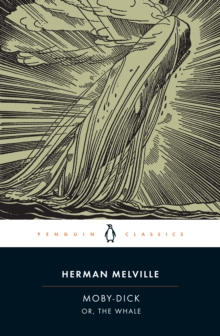 Moby-Dick : or, The Whale
Paperback
Description
The original 'Great American Novel', Herman Melville's Moby-Dick is a masterful study of obsession.
This Penguin Classics edition contains an introduction by Andrew Delblanco, with explanatory commentary by Tom Quirk.'Call me Ishmael.'So begins Herman Melville's masterpiece, one of the greatest works of imagination in literary history.
As Ishmael is drawn into Captain Ahab's obsessive quest to slay the white whale Moby-Dick, he finds himself engaged in a metaphysical struggle between good and evil.
More than just a novel of adventure, more than an paean to whaling lore and legend, Moby-Dick is a haunting social commentary, populated by some of the most enduring characters in literature; the crew of the Pequod, from stern, Quaker First Mate Starbuck, to the tattooed Polynesian harpooner Queequeg, are a vision of the world in microcosm, the pinnacle of Melville's lifelong meditation on America.
Written with wonderfully redemptive humour, Moby-Dick is a profound, poetic inquiry into character, faith, and the nature of perception.Based on the Northwestern University Press edition, this Penguin Classics edition includes a critical introduction by Andrew Delbanco, as well as valuable explanatory notes, maps, illustrations and a glossary of nautical terms.Herman Melville is now regarded as one of America's greatest novelists.
Much of the material for his novels was drawn from his own experience as a seaman aboard whaling ships.
He wrote his masterpiece Moby-Dick in 1851, and died in 1891.If you enjoyed Moby-Dick, you may like Miguel de Cervantes' Don Quixote, also available in Penguin Classics.'After reading Moby-Dick, you will have enhanced your sense of wonder, you will have increased the size of your universe'E.
M. Forster'One of the strangest and most wonderful books in the world ...
It moves awe in the soul'D. H. Lawrence
Information
Format: Paperback
Pages: 720 pages
Publisher: Penguin Books Ltd
Publication Date: 14/12/2002
Category: Classic fiction (pre c 1945)
ISBN: 9780142437247
Other Formats
Hardback from £12.89
Paperback from £10.19
EPUB from £7.91
Paperback / softback from £9.99
Free Home Delivery
on all orders
Pick up orders
from local bookshops
Reviews
Showing 1 - 5 of 38 reviews.
Previous | Next
Review by tikitu-reviews
16/06/2015
Wow. Wow wow wow wow wow.This was, at the same time, everything I expected and nothing like what I expected.It's enormous: check. It's full of obsessive detail about sailing and whaling technology and techniques: check. You know the ending: check. It starts with "Call me Ishmael"… well, not quite.The biggest surprise about Moby-Dick is how <i>funny</i> it is. The book in fact opens with two sections giving some warning: an 'Etymology (Supplied by a Late Consumptive Usher to a Grammar School.)' and a selection of 'Extracts (Supplied by a Sub-Sub-Librarian.)' These last are introduced with the note, "It will be seen that this mere painstaking burrower and grub-worm of a poor devil of a Sub-Sub appears to have gone through the long Vaticans and street-stalls of the earth, picking up whatever random allusions to whales he could anyways find in any book whatsoever, sacred or profane," and then continues for twelve pages that fulfill that promise entirely.The humour of the narrator is to show up again and again throughout the novel, as for example in the chapter entitled 'Cetology', when he classifies the various breeds of whale according to size: Folios (Sperm Whale, Right Whale, Hump-backed Whale, &amp;c), Octavoes (Narwhales, Killer Whales &amp;c) and Duodecimoes (various Porpoises). The chapter ends with a passage that is most certainly going to become an epigraph somewhere in my PhD thesis:It was stated at the outset, that this system would not be here, and at once, perfected. You cannot but plainly see that I have kept my word. But I now leave my cetological System standing thus unfinished, even as the great Cathedral of Cologne was left, with the crane still standing upong the top of the uncompleted tower. For small erections may be finished by their first architects; grand ones, true ones, ever leave the copestone to posterity. God keep me from even completing anything. This whole book is but a draught—nay, but the draught of a draught. Oh, Time, Strength, Cash, and Patience!Beyond the humour, though, there's a different kind of playfulness at work which also surprised me. It's hinted at, again, by the Etymology and Extracts, but it's still a surprise to see chapters 37 to 40 given in the form of a fragment of playscript, complete with stage directions and the occasional song-and-dance number! There's a more subtle form of stylistic schizophrenia at work as well, that I'm not sure I would have noticed if it wasn't mentioned in the introduction, but that sticks out like a sore thumb once you're alert to it: the narrator moves back and forth between being a real character taking part, and an all-seeing impersonal observer, depending on the varying needs of the author. The character is certainly present, indeed he's the only member of the crew who escapes the sinking of the <i>Pequod</i>, but he comments (in his own unique voice) on events which he cannot have witnessed and on the innermost thoughts of other characters, whenever Melville feels this might be helpful.I'm still surprised that I enjoyed so much a novel that, stylistically speaking, is a poorly edited hodgepodge (it's not only style that wanders about; there are various continuity errors, characters that disappear without explanation or are cavalierly and unexpectedly dismissed, and so on). What carries it is the voice of the narrator, blending the comic and the horrific and the heroic aspects of his situation to perfection. He kept me fascinated by the details of 19th century whaling, which takes some doing.That point deserves some expansion. It's true that a large portion of the novel (perhaps between 20 and 30 percent, from a quick scan of chapter titles) is given over to painstakingly detailed descriptions of whaling procedure, the equipment, the historical appreciation for the craft, and so on and so forth. What this <i>isn't</i> (to my delighted surprise) is dry. It's carried by Melville's enormous enthusiasm for the subject, made visible in the pride and the sense of heroism his narrator gives voice to, as well as by that slightly detached humour that lets him carry out an extended metaphor describing a Sperm Whale's and a Right Whale's heads as representing Stoic and Platonic philosophy, while those same heads are hanging on either side of the <i>Pequod</i> and stinking to high heaven.A note about the edition, and annotation in general: I read the Penguin Classic edition, which is light on annotations; I quite often missed the notes for an obvious allusion. A comprehensive reading list accompanies the notes. Three chapters (a full three chapters!) of the novel deal with depictions of whales in art ('Of the Monstrous Pictures of Whales&amp;rsquo;' 'Of the Less Erroneous Pictures of Whales, and the True Pictures of Whaling Scenes,' and two pages entitled 'Of Whales in Paint; in Teeth; in Wood; in Sheet-Iron; in Stone; in Mountains; in Stars'), and the notes refer the reader to <i>Herman Melville's Picture Gallery: Sources and Types of the "Pictorial" Chapters of Moby-Dick</i>; it's on my wishlist.If you're game for a rather dense 600 pages, <i>Moby-Dick</i> will repay your dedication. Despite the digressions and despite knowing the ending of it all, it's a compelling story. And <i>because</i> of the digressions, it's astonishingly funny and stylistically … like nothing I've ever read before.
Review by Cate88
16/06/2015
The Not-So-Great American novel. Frankly boring. Awash in stereotypes. Really bogs down at times. Couldn't finish it.
Review by Omrythea
16/06/2015
I tried, I tried... I really wanted to read this since it is such an important work. It is referenced over and over in everything from The Simpson's to Star Trek. I just couldn't get much past all the long long descriptions of "fishes" to truly experience the story. Classics are so hard for me... sigh.
Review by HvyMetalMG
16/06/2015
That shee blows. But this book does not. I read this 15 years ago, and reember enjoying it. Any time I can enjoy a book read in school at 15 years old, I know it must be good. On my list to re-read.
Review by Clurb
16/06/2015
I was really enjoying this for the first few chapters, but then Melville seemed to think that rather than writing the middle piece of plot, he'd be better off splurging dry, uninteresting essays on whaling and sealife across several hundred pages. Then suddenly, a few chapters away from the back cover, I hit storyline again and took the razor blade away from my wrist.Yes, it's layered and full of symbolism and metaphor, and if you were studying this dutifully you'd get more enjoyment out of it than I did, but it's really not the sort of book that works well as a light summer read.