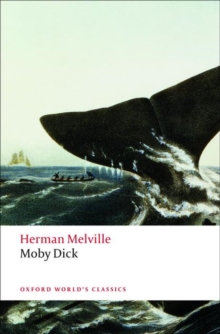 Description
This classic story of high adventure, manic obsession, and metaphysical speculation was Melville's masterpiece.
The tale of Captain Ahab's frantic pursuit of the cunning and notorious white whale Moby Dick, is packed with drama, and draws heavily on the author's own experiences on the high seas.
This edition includes passages from Melville's correspondence with Nathaniel Hawthorne, in which the two discussed the philosophical depths of the novel's plot and imagery.
ABOUT THE SERIES: For over 100 years Oxford World's Classics has made available the widest range of literature from around the globe.
Each affordable volume reflects Oxford's commitment to scholarship, providing the most accurate text plus a wealth of other valuable features, including expert introductions by leading authorities, helpful notes to clarify the text, up-to-date bibliographies for further study, and much more.
Information
Format: Paperback
Pages: 592 pages
Publisher: Oxford University Press
Publication Date: 01/12/2010
Category: Literary essays
ISBN: 9780199535729
Other Formats
Paperback from £2.50
Hardback from £5.09
CD-Audio from £13.05
eAudiobook MP3 from £8.00
EPUB from £0.99
Free Home Delivery
on all orders
Pick up orders
from local bookshops
Reviews
Showing 1 - 5 of 8 reviews.
Previous | Next
Review by nbmars
16/06/2015
Call me impressed. The blurb on the jacket of this audio book calls it a "breathtaking masterwork," but actually, it's better than that! It is a epic and staggering tale every bit as big as its subject matter--the largest of all living creatures and the edacious, relentless men who hunt and kill them. Melville's language is grandiloquent and a bit archaic, almost like the King James Bible. Although some might find that pretentious, I think it works in its context. My experience of the book may even have been enhanced by listening to it rather than reading it: the language is so elevated that, like a Shakespearian play, it is more moving when heard than when read. Melville says somewhere near the end of the book that one should write big stories about big subject matters, not about small things. And indeed, this book is not about mice or fleas; it is about whales and whaling.<em>Moby Dick</em> was first published in 1851. The plot is of course familiar to most; beginning with the first sentence "Call me Ishmael" to the obsessed quest by Captain Ahab on the whaleship <em>Pequod</em> to catch and kill the whale that severed his leg, this story has been swimming through the culture in every medium from music to movies (including adaptations like "Jaws) and television.Melville can be forgiven for utilizing a sprinkling of omens and preternaturally prescient shamans, reminiscent of Shakespeare's witches, to create a foreboding atmosphere. His characters were superstitious and would have attributed such portentousness to ordinary coincidences. And what wonderful characters they are! Dickens himself would have been proud to have limned them, especially the "pagan savages," the harpooners named Queequeg, Tashtego, Daggoo, and Fedallah. This is not just a novel. It is also an encyclopedic treatise on the subject of whales and whaling, relating not only what scientists of the time knew, but also much of the lore (obviously exaggerated, but in many ways more interesting than the truth) prevalent in the fishery. In the performance to which I listened ("Unabridged Classics" on 18 CDs), Frank Muller did a superb job of mastering accents and employing different voices for different characters. This book sets a very high standard for other fiction. It deserves its rating as one of the greatest novels in the English language.(JAB)
Review by Leli1013
16/06/2015
I've been reading this for about ten years now and I am determined to finish it. Melville's writing is incredible. There is a rhythm to it that is almost soothing and that might be the problem. This is the book I read to help me fall asleep and I think that is why its taken me so long to finish it.
Review by teunduynstee
16/06/2015
So I wanted to read Moby Dick and was warned more than once that it is a tough read, requiring perseverance and an unnatural interest in arcane whale slaughtering practices. The book certainly lived up to its name: it took me a long time to get through it, much more than 600 pages would normally take me. The start is actually quite lively and a fun read, but once the crew is on board, there are four boring chapters for every interesting one. I actually liked the chapters where Melville describes in minute detail the practices of the 19th century whalers; sort of interesting. I was quite disappointed that after all of the dark premonitions and anticipation, the whale is actually first spotted at 95% of the book and then finishes off the boat and crew in a matter of a few pages. Well, anyway, I read it and it wasn't terrible, but I've read more entertaining 19th century novels.
Review by mausergem
16/06/2015
A book which is read 150 plus years after its published is almost always good. This book describes an occupation which went out of vogue some time ago. Its afirst hand experience of an whaleman. It is an in depth and comprehensive narrative of whalers. Some emotional aspects add additional flavor . All in all a good book
Review by Krista23
16/06/2015
Was a good adventure story full of revenge, gained friendships and a very protagonist Captain. In the end I was voting him off the island and on the side of the whale. I could have gone without the detailed descriptions of the catching of the Whales for rendering of oils. I felt sorry for the animals and the roughness in which they got captured. You could say it is a true Fisherman's story.
Also in the Oxford World's Classics series | View all