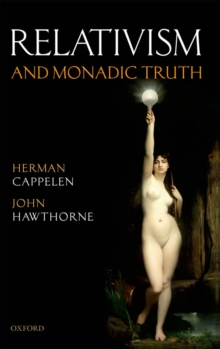 Relativism and Monadic Truth
Paperback / softback
Description
Relativism has dominated many intellectual circles, past and present, but the twentieth century saw it banished to the fringes of mainstream analytic philosophy.
Of late, however, it is making something of a comeback within that loosely configured tradition, a comeback that attempts to capitalize on some important ideas in foundational semantics.
Relativism and Monadic Truth aims not merely to combat analytic relativism but also to combat the foundationalideas in semantics that led to its revival.
Doing so requires a proper understanding of the significance of possible worlds semantics, an examination of the relation between truth and the flow of time, an account of putatively relevant data from attitude and speech act reporting, and a careful treatment ofvarious operators.
Throughout, Herman Cappelen and John Hawthorne contrast relativism with a view according to which the contents of thought and talk are propositions that instantiate the fundamental monadic properties of truth simpliciter and falsity simpliciter.
Such propositions, they argue, are the semantic values of sentences (relative to context), the objects of illocutionary acts, and, unsurprisingly, the objects of propositional attitudes.
Information
Format: Paperback / softback
Pages: 158 pages
Publisher: Oxford University Press
Publication Date: 07/10/2010
Category: linguistics
ISBN: 9780199592487
Free Home Delivery
on all orders
Pick up orders
from local bookshops