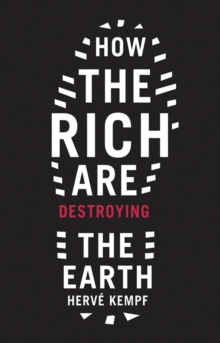 How the Rich are Destroying the Earth
Paperback
Description
A bestseller in France, and already translated into Spanish, Italian, Greek, and Korean, Herve Kempf's How the Rich Are Destroying the Earth now appears in its first English edition.
In this important primer on the link between global ecology and the global economy, Kempf makes the following observations: First, that the planet's ecological situation is growing ever worse, despite the efforts of millions of engaged citizens around the world. And second, despite environmentalists' emphasis that 'we're all in the same boat', the world's economic elites - who continue to benefit by plundering the environment - have access to 'lifeboats' that insulate them from the resulting catastrophes.
Societies have not been able to effectively combat the expanding ecological crisis because it is intimately linked to the social crisis in which the ruling form of capitalism has been organized to impede democratic initiatives.
This link explains the failure to make progress against the greatest emergency of our time, because in this relationship the oligarchy plays an essential and destructive role.
For this reason, solving the ecological crisis depends on disrupting the power of the world's elite.
We cannot understand the entwined ecological and social crises, Kempf argues, if we don't see them as the two sides of the same disaster - a disaster that comes from a system piloted by a dominant social strata that has no drive other than greed, no ideal other than conservatism, no dream other than technology.
But Kempf also calls for measured optimism: 'Despite the scale of the challenges that await us, solutions are emerging and - faced with the sinister prospects the oligarchs promote the desire to remake the world is being reborn.'
Free Home Delivery
on all orders
Pick up orders
from local bookshops