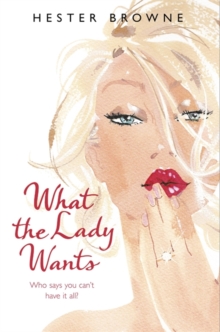 What the Lady Wants
Paperback
Description
Melissa is the shy, shockable sweetheart of a property tycoon.
Honey is Supernanny meets Superwoman - the gal on a one-woman mission to Make Men Better.
To an outsider, they're two completely different women.
But they're actually one and the same. Until now, this has ticked along quite nicely - with Honey merely being Mel's professional persona, when she's running The Little Lady Agency.
But now her grandmother has asked her to take on the case of a lifetime: namely improving Prince Nicolas of Hollenberg - Europe's most playboy of princes - who, despite his good breeding, is completely set on leading Melissa astray. And all this blue blood is making her fiance, Jonathan, finally see red. And this isn't all that's on Mel's plate. She's trying to set up her flatmate Nelson with a nice girl; her increasingly-bonkers family are making all sorts of demands on her; her best friend Gabi is getting married...oh, and she has her own fairytale ending to find.
Can Mel rise to the challenge of reforming Prince Charmless?
Will the Little Lady Agency survive? And has her own prince been there all along?
Information
Format: Paperback
Pages: 464 pages
Publisher: Hodder & Stoughton General Division
Publication Date: 01/05/2008
ISBN: 9780340937778
Free Home Delivery
on all orders
Pick up orders
from local bookshops
Reviews
Showing 1 - 1 of 1 reviews.
Review by phoebesmum
16/06/2015
Third and last in the series about mousy, insecure Melissa and her alter-ego, the brassily confident and ruthlessly efficient Honey who can organise everyone's life except – predictably enough – Melissa's. This instalment throws a minor Eurotrash prince into the mix, both as a client and as a candidate for Melissa/Honey's affections. Who wins the day? Readers of all three books will probably not be surprised to learn the answer. To add to her problems, her sister Emery, a woman so wet it would be hard to notice when her water broke, is pregnant and has inherited the family Nanny from Hell. This series is not, by any means, either literature or high art – aside from all else, the author has a tendency to let her characterisation shift to suit the needs of the plot rather than the other way round – but the books are readable, and fun, filled with some delightful characters, most notably Honey's fast-living grandmother, the wonderfully-named Dilys Blennerhesket who, in her mid-seventies, is also in the market for love. Besides which, Melissa is a well-built young woman (and so hopelessly naïve that she doesn't fully understand why her schoolmates called her 'Melons') with an unpleasant, bullying father. I sympathise completely.