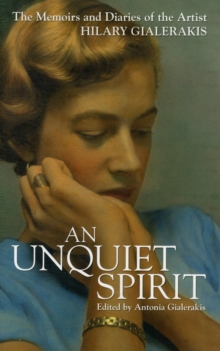 An Unquiet Spirit : The Memoirs and Diaries of the Artist Hilary Gialerakis
Hardback
Description
Hilary Gialerakis lived a colourful, tempestuous life until her death at the age of seventy-nine in 2003.
After a lifetime of illnesses, mystery afflictions and treatment by doctors, psychiatrists and various counsellors from a variety of different disciplines, finally, in the closing pages of her diary, she diagnosed herself as nothing more than an 'unquiet spirit'. In writing her diaries - started in 1924 and put aside in 1973 - Hilary was seeking to find the answer to her perpetual question: 'What is wrong with me?' Despite the turbulence of the years, Hilary - who also exhibited under the name of Hilary Lorenzen in South Africa - painted a great many paintings, many of which met with critical acclaim. When, shortly before her death, Hilary posted the writings to her daughter Antonia - who has since edited and provided a Foreword to this book - she did so in the hope that this might bring them closer together.
In sharing this often painful testament with a wider audience, An Unquiet Spirit is a story of fortitude, daring, courage - even humour - as well as sure proof that the creative life is often the only respite in the most despairing of situations.
Information
Format: Hardback
Pages: 169 pages
Publisher: Quartet Books
Publication Date: 30/11/2012
Category: Memoirs
ISBN: 9780704372849