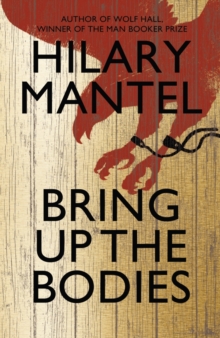 Bring Up The Bodies
Hardback
Description
Winner of the Man Booker Prize 2012With this historic win for BRING UP THE BODIES, Hilary Mantel becomes the first British author and the first woman to be awarded two Man Booker Prizes, as well as being the first to win with two consecutive novels.
Continuing what began in the Man Booker Prize-winning WOLF HALL, we return to the court of Henry VIII, to witness the irresistible rise of Thomas Cromwell as he contrives the destruction of Anne Boleyn.By 1535 Cromwell is Chief Minister to Henry, his fortunes having risen with those of Anne Boleyn.
But the split from the Catholic Church has left England dangerously isolated, and Anne has failed to give the king an heir.
Cromwell watches as Henry falls for plain Jane Seymour.
Negotiating the politics of the court, Cromwell must find a solution that will satisfy Henry, safeguard the nation and secure his own career.
But neither minister nor king will emerge unscathed from the bloody theatre of Anne's final days.An astounding literary accomplishment, BRING UP THE BODIES is the story of this most terrifying moment of history, by one of our greatest living novelists.
Information
Format: Hardback
Pages: 432 pages
Publisher: HarperCollins Publishers
Publication Date: 01/05/2012
Category: Historical fiction
ISBN: 9780007315093
Other Formats
Paperback from £8.65
EPUB from £4.49
CD-Audio from £15.15
Mixed media product from £29.35
eAudiobook MP3 from £6.79
Hardback from £75.49
Free Home Delivery
on all orders
Pick up orders
from local bookshops
Reviews
Showing 1 - 5 of 20 reviews.
Previous | Next
Review by Kasthu
16/06/2015
Bring Up the Bodies has been anticipated greatly by me (and I'm sure many others) ever since I read Hilary Mantel's fabulous Wolf Hall in 2009. The second book in a trilogy, Bring up the Bodies begins in 1535 and covers the dissolution of Henry VIII's marriage to Anne Boleyn and her execution in 1536.While this book covers the strange events of that time, the book is actually more about Thomas Cromwell—the enigmatic, far-range-thinking mastermind behind both the Katherine of Aragon divorce and Anne Boleyn's trial. To read this novel properly, it must be remembered that Cromwell is the star of this show, not Henry or Anne. Cromwell is one of most fascinating figures of Tudor England—and in this book and in Wolf Hall, Mantel portrays him in a more positive light than previous novels and films have. Cromwell was not good at showing emotion, which served him well in politics at court. He had an ironic, often sarcastic sense of humor. You are not going to connect emotionally with Cromwell's character. Rather, this book makes you want to know more about what must have been going on in his head. People around him avoided, even disliked, him for a good reason: he was probably very difficult to get close to or to understand.Because he, Cromwell, truly was a mastermind: shrewd, anticipating every contingency. For that reason he is little interested in his past, so although his deceased wife and children pop up every now and then, he does not dwell on the past. He is interested in metaphor, constantly comparing one thing with another. Part of Cromwell's position entailed understanding and anticipating his master; but while he sought to serve Henry VIII, he still has his own interests at heart. He is cynical about the motives of the people around him and trusts no one—not even Henry.It seems that Hilary Mantel listened to her Wolf Hall readers—she is much clearer with her pronouns this time around. Her previous book covers a larger time span; this book only covers a period of nine months, so the pace of this novel is breakneck. Less attention is given to the plot or outcome of the book, which the reader knows anyways; Mantel's skill lies in being concise. Usually, historical fiction written in the present tense drives me nuts, but I hardly even noticed with this novel; Mantel's prose is seamless. There are probably hundreds of novels out there about the downfall of Anne Boleyn, but this one stands head and shoulders (no pun intended) above the rest.
Review by davidroche
16/06/2015
Wolf Hall is a tough act to follow. Huge anticipation for this and (phew) it is as excellent as one could hope for.
Review by roblong
16/06/2015
The sequel to Wolf Hall, this charts the downfall of Anne Boleyn as seen through the eyes of Thomas Cromwell, Henry VIII's fixer. Not quite as good as Wolf Hall, mainly I think because the events concerned aren't as wide-ranging and dramatic as those surrounding the replacement of Katherine of Aragon by Anne Boleyn (the Reformation, for example, feels a side issue here, rather than integral to what is happening), but still very good. The second half of the book in particular, where Cromwell adapts Henry's desired ends into a plan that can satisfy as many of his goals as the King's, is brilliant, coloured with shades of Darkness at Noon and other modern nightmares.
Review by CarltonC
16/06/2015
A masterly and extremely readable sequel to Wolf Hall, continuing the story of Thomas Cromwell, his involvement in bringing Anne Boleyn to the executioner, whilst introducing Henry VIII to Jane Seymour. The writing is, as ever with Mantel, a pleasure and the ease of recreation of a historical period now long gone appears effortless, so that you read without realising how much you learn.A joy to read.
Review by pierthinker
16/06/2015
Historical fiction tells us a story set in some past time. Successful historical fiction invokes that past time subtly and with relevance to the story - narrative, character and action. Mantel achieves this success in spades. With very few descriptive passages and no historical exposition ('Look, here comes Sir Sydney, 2nd cousin to the King and chief enemy of the French...') Mantel invokes Tudor times so strongly I do believe I am there when I read this book. It is all done through character and the revelation of character through conversation. The only person allowed an internal monologue is Thomas Cromwell, our 'hero' himself. The biggest success for me is that these are all people I believe in and people who have full lives both within and outside the book itself. It really is like catching a true glimpse of the past where the only clues you have are what people say to each other, because no one will talk about their everyday life - they know what that is as they live it themselves. we forget that the past is not some visitor attraction, but a real place with real people who know their surroundings and relationships and interactions and manners and how to get along.I have not spoken about the characters, the story of Anne Boleyn's downfall, our ambivalent reaction to Thomas Cromwell - a vicious cold-hearted brute who is also funny, loving, wise and devoted to family and friends, or about how funny this book is. The marvel is in how it is written and how that writing draws us in and makes us believe that we are witnessing history - what these characters say and do is so natural it must be what really happened. This is magnificent.