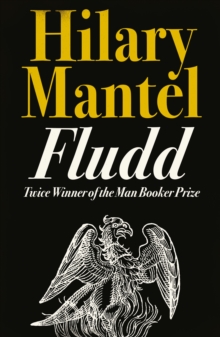 Description
From the double Man Booker prize-winning author of `Wolf Hall', this is a dark fable of lost faith and awakening love amidst the moors.Fetherhoughton is a drab, dreary town somewhere in a magical, half-real 1950s north England, a preserve of ignorance and superstition protected against the advance of reason by its impenetrable moor-fogs.
Father Angwin, the town's cynical priest, has lost his faith, and wants nothing more than to be left alone.
Sister Philomena strains against the monotony of convent life and the pettiness of her fellow nuns.
The rest of the town goes about their lives in a haze, a never-ending procession of grim, grey days stretching ahead of them.Yet all of that is about to change.
A strange visitor appears one stormy night, bringing with him the hint, the taste of something entirely new, something unknown.
But who is Fludd? An angel come to shake the Fetherhoughtonians from their stupor, to reawaken Father Angwin's faith, to show Philomena the nature of love? Or is he the devil himself, a shadowy wanderer of the darkest places in the human heart?Full of dry wit, compassionate characterisations and cutting insight, Fludd is a brilliant gem of a book, and one of Hilary Mantel's most original works.
Information
Format: Paperback
Pages: 208 pages
Publisher: HarperCollins Publishers
Publication Date: 18/04/2005
ISBN: 9780007172894
Free Home Delivery
on all orders
Pick up orders
from local bookshops
Reviews
Showing 1 - 2 of 2 reviews.
Review by CatyM
16/06/2015
In the bleak Northern mill village of Fetherhoughton, the population trudge grimly through life, surrounded by poverty and the tight grip of the Catholic Church. Old Ma Purpit - Mother Perpetua, mother superior and headmistress - terrorises the children and the nuns alike. Father Angwin, the parish priest, doesn't believe in God or in change, and since his job requires the former and his bishop the latter he's begun to put his faith in the whisky decanter. Into this village comes Fludd: the new curate, it seems, and sent by the bishop. Except there's something odd about Fludd - and some odd things are happening in the village. The picture of northern grimness seemed a bit caricatured at the start of the book, like the apogee of one of those deprivation one-upmanship conversations that just gets silly: <i>"When I were a lad, we lived ten of us in one room and me brothers an' me 'ad one pair o' shoes between the six of us." "That's nothing! When I were a lad, we slept seventeen to a bed, and there were that many 'oles in the roof we 'ad to shelter under the whippet to keep the rain off."</i> So also the picture of the Catholic Church: very bleak and wholly negative. But as the book continues these pictures begin to work. Not literally - the village never quite works as a real place - but as symbols of downtrodden lives, of oppressive institutional religion and of looking with new perspectives at the same old things. I didn't love this book, but I did like it, and it did stimulate my thoughts about faith and change. Worth reading, I think, but perhaps the kind of book to borrow from the library rather than to rush out and buy.
Review by stillatim
16/06/2015
Perhaps the most disappointing book I've read in a while. The first two thirds are fascinating and excellently done: a range of great if type-cast characters, including the witty, non-believing priest, the 'modernising' (read: self-serving) bishop, the downtrodden spinster housekeeper, the repulsive but somehow attractive proles, the awful senior nun. Add to that the mysterious Fludd - who may or may not be the early modern alchemist, dedicated to effecting transformation in all he touches - and you've got a great mix of Muriel Spark, David Foster, and J. F. Powers. <br/><br/>Then - plot spoiler!<br/><br/>It turns out to be a fairly dull tale of a young nun, who was bullied into the nunnery, being 'liberated' by having a few days' worth of sex with the aforementioned alchemist. Really, Ms. Mantel? <br/><br/>This is very vexing, because the book is otherwise so very excellent. I can almost believe that this has meta-fictional importance (i.e., the book, which looked like it was going to be about a man, ends up being about a woman). That's all very well if you have to write an ENG201: Contemporary Female Authors paper, but it doesn't do much for those of us who actually wanted to read the damn thing. A fabulous theme dealt with intelligently in a beautifully written book that doesn't advertize its 'relevance' is a rare thing, and it's too bad that Mantel either got too lazy or too smart for the book's own good in the last third. How's about a sequel to Fludd that focuses on Angwin, the bishop and Miss Dempsey rather than the unbearably dull Roisin O'Halloran?