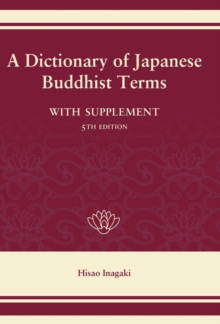 A Dictionary of Japanese Buddhist Terms
Hardback
Description
Buddhism has permeated Japanese life and thought so deeply that knowledge of it is essential for a true understanding of any aspect of Japanese culture.
This dictionary, with nearly five thousand entries on Buddhist terms, personal names, ceremonies, texts, and sects, will be of special interest to scholars and students of literature.
Most entries have been drawn from such classics as Shasekishu Kokon chomonju, Hojoki, Makura no soshi, Tsurezure-gusa, Heike monogatari, and Taiheiki.
Hisao Inagaki received a PhD from the School of Oriental and African Studies, University of London, and is a professor at Ryukoku University in Kyoto.
Information
Format: Hardback
Pages: 548 pages
Publisher: Stone Bridge Press
Publication Date: 19/04/2007
Category: Reference works
ISBN: 9781933330051